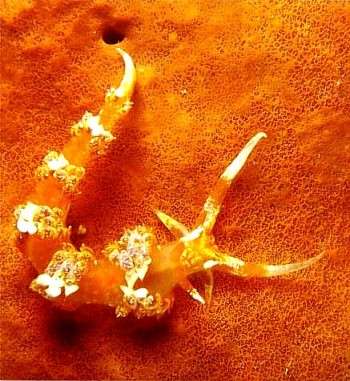 Austraeolis catina
Marcus & Marcus, 1967
Order: NUDIBRANCHIA
Suborder: AEOLIDINA
Family: Glaucidae

DISTRIBUTION
Caribbean
PHOTO
Belize [western Caribbean], July 1999, Length 0.5 - 1 inch. PHOTO: Anne Dupont.
Known from Florida and Jamaica (Marcus & Marcus, 1967), and Belize (see message below). Original description described body as 'transparent greyish .. with brown marks on side of head and middle of rhinophores' and with white speckling on skin, concentrated in some parts such as middle of head, tentacles etc.
One feature not clearly seen in the photos are the rhinophores which are described as having up to 12 rings.
Reference:
• Marcus, E. & Marcus, E. (1967). Tropical American Opisthobranchs. Studies in Tropical Oceanography Miami, 6: 1-137.