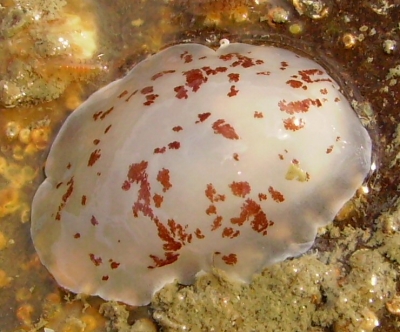 Berthella ornata
(Cheeseman, 1878)
Order: NOTASPIDEA
Superfamily: PLEUROBRANCHOIDEA
Family: Pleurobranchidae

DISTRIBUTION
Endemic to New Zealand. Found throughout the three main islands and also the Chatham Ids, from the intertidal to the shallow sublittoral.
PHOTO
Locality: Under rocks, 10 cm, Whangaparaoa, Auckland, NZ, Pacific, 12 March 2009, Rock pool. Length: About 1 inch. Photographer: Graham Bould.
The mantle is a smooth translucent cream to light brown with large irregularly shaped dark brown patches scattered all over. The foot and oral veil are translucent clear. The rhinophores usually have some dark brown regions or patches, but the tips are always white.  Like all species of the genus, it has a small, flattened, lightly calcified, internal shell, hidden in the mantle tissue. When disturbed the animal can exude a milky white secretion either from a single spot or from the whole mantle. It is reported to grow to at least 70 mm in length. Willan (1984) report finding spicules from the sponge Plakina monolopha in faeces of  B. ornata.
Cheeseman, T. F. (1879) Descriptions of three new species of Opisthobranchiate Mollusca, from New Zealand. Proceedings of the Zoological Society of London, 1878: 275-277, Pl. 15

Willan, R. C. (1983) New Zealand side-gilled sea slugs (Opisthobranchia: Notaspidea: Pleurobranchidae). Malacologia, 23, 221-270.

Willan, R. C. (1984) A review of diets in the Notaspidea (Mollusca: Opisthobranchia). Journal of the Malacological Society of Australia, 6, 125-142.
Authorship details
Rudman, W.B., 2009 (March 16)
Berthella ornata
(Cheeseman, 1878).
[In] Sea Slug Forum.
Australian Museum, Sydney. Available from http://www.seaslugforum.net/factsheet/bertorna