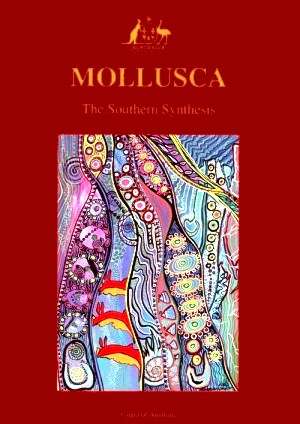 Mollusca - The Southern Synthesis
Beesley, P.L., Ross, G.J.B. & Wells, A (eds)
Mollusca: The Southern Synthesis.
Fauna of Australia, Vol 5.
CSIRO Publishing : Melbourne.
Part A pp 1-563.
Part B pp 564-1234.
Published 1998 Hardback
Price: $295.00 (Australian Dollars)
ISBN 0 643 05756 0
Mollusca: The Southern Synthesis is the most comprehensive and authoritative treatment yet of Australia's marine, freshwater and terrestrial molluscs. It is a significant international reference, with contributions from 70 authors, and in which some 7700 papers in the primary literature are cited. Most molluscan families described in the book are also found in the Northern Hemisphere, making this title an essential reference for malacologists worldwide.
Mollusca: The Southern Synthesis provides a series of overviews at one or more levels for the phylum and six classes, introducing accounts for the 423 molluscan families presently recognised in the region.
At each level, details are presented on: 
- morphology and physiology; 
- natural history; 
- biogeography and phylogeny; 
- history of discovery; and 
- economic significance.
There is also a comprehensive coverage of the fossil record. The glossary will assist readers less familiar with special terms, and the 30 000 entries in the comprehensive index will ensure ready access to information in the text and figures.
Readership: This volume is aimed at professional and amateur malacologists and a broad non-specialist readership, including ecologists, biologists, palaeontologists, conservationists, land managers and tertiary students.
The specifically Opisthobranch sections are:
CHAPTER 16 OPISTHOBRANCHIA 915-1035
Introduction ....... 915-942
History of Discovery, Morphology and Physiology, Natural History by W. B. Rudman
Definition and General Description, Phylogeny, Biogeography, Methods of Study by R. C. Willan
Order Cephalaspidea by R. Burn & T.E. Thompson ...... 943-959
Order Acochlidea by R. Burn ...... 959-960
Order Rhodopemorpha by R. Burn ...... 960-961
Order Sacoglossa by R. Burn ...... 961-974
Order Anaspidea by R. C. Willan ...... 974-977
Order Notaspidea by R. C. Willan ...... 977-980
Order Thecosomata by L. Newman ...... 980-985
Order Gymnosomata by L. Newman ...... 985-989
Order Nudibranchia by R. C. Willan ...... 990
Suborder Doridina by W. B. Rudman ...... 990-1001
Suborder Dendronotina by W. B. Rudman ...... 1001-1007
Suborder Arminina by R. C. Willan ...... 1007-1011
Suborder Aeolidina by W. B. Rudman ...... 1011-1017
For further details go to CSIRO website http://www.publish.csiro.au/. Select 'Zoology - Invert' Books and then 'Fauna of Australia Series'.
Reviews: Here are a few short comments from CSIRO website.
"Stupendous! Magnifique! Incredible!"
Philippe Bouchet, Museum National d'Histoire Naturelle, Paris

"...This effort is certain to be one of the most cited publications of our era. The review of the literature and the high quality of the illustrations make the volumes indispensable."
Robert Bulock, Professor of Biological Sciences, The University of Rhode Island, New York

"…I am sure it will become a classic reference, not just for Australians, but for all those interested in molluscs around the world because of the comprehensive treatment at family level. …I only wish I had something like this when I first started off thirty years ago."
Tom Darragh, Museum of Victoria, Melbourne.
"Breathtakingly beautiful, graphically & technically; its breadth makes it one of the best encyclopedias (if not the best) on mollusca today. My volumes will be treasured and used."
Mel Harte, Berkeley, California

"…I regard it as the best review of what is currently written on Molluscan morphology, systematics and anatomy in general."
Gerhard Haszprunar, Zoologische Staatssammlung Munchen, Munchen, Germany
"Mollusca: the southern synthesis" will be used throughout the world for many years to come, as the best available reference work on Mollusca in general, and Australian ones in particular. Everyone interested in Mollusca at any level will find a copy richly rewarding.
Alan Beu, New Zealand Journal of Marine and Freshwater Research, 1998, Vol. 32
Authorship details
Rudman, W.B., 1999 (October 28)
Mollusca - The Southern Synthesis
. Beesley, P.L., Ross, G.J.B. & Wells, A (eds) .
[In] Sea Slug Forum.
Australian Museum, Sydney. Available from http://www.seaslugforum.net/factsheet/brabrs1