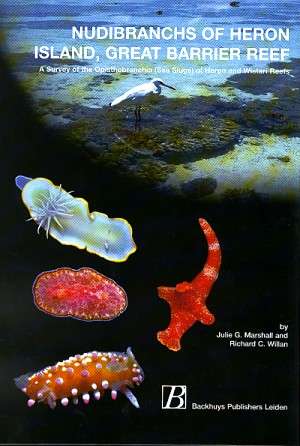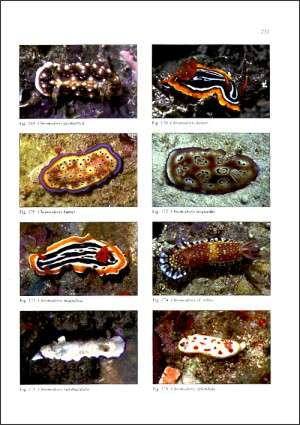 Nudibranchs of Heron Island, Great Barrier Reef
J.G. Marshall & R. C. Willan
Nudibranchs of Heron Island, Great Barrier Reef - A survey of the Opisthobranchia (Sea Slugs) of Heron Island and Wistari Reefs.
Backhuys Publishers, Leiden 1999,
269 pages, 2 text figures, 38 colour plates depicting 280 species, 3 colour plates showing study sites, hardbound.
Page size A4 (210 x 297mm)
ISBN 90-5782-033-1
Price: NLG 120 (Guilders); approx US $60; approx Aust $90.
Situated at the southern end of the Great Barrier Reef, Heron Island has for many years attracted tourists and students interested in tasting the wonders of coral reefs. One of the 'wonders' at the top of most visitors list are the spectacularly shaped and coloured Sea Slugs which excite the interest and curiosity of even the most travel-weary tourist. This book, specifically recording the opisthobranchs of this locality, will be an indispensable aid to any visitor to the reef with more than a passing interest in natural history.
Although entitled the "Nudibranchs of Heron Island" this book covers all groups of opisthobranchs. About half of the book (120 pages) consists of detailed descriptions of the nearly 300 species reported from Heron Island and adjacent Wistari Reef. Included for each species are descriptions of their external features, and sections on each species' habitat, distribution, synonymy and existing references. In many cases there is some information about their feeding biology or habitat preference and a comparison with related species.
This book is the result of the collaboration by university librarian Julie Marshall and museum malacologist Richard Willan. Both have made many visits to Heron Island over the past twenty years and between them have accumulated a wealth of knowledge and photographs of the sea slugs found at this popular spot at the southern end of the Great Barrier Reef.
The only negative thing I have to say about this book is about the colour printing. Somehow the colour photos within the book, although perfectly adequate for identification, lack the vibrant colours of the four nudibranchs illustrated on the cover. Despite that, this book is a required addition to the library of any Sea Slug afficionado.
It is available from: Backhuys Publishers, PO Box 321 AH Leiden, the Netherlands. I assume it is also available from other on-line book shops.
Bill Rudman.
Authorship details
Rudman, W.B., 2000 (February 2)
Nudibranchs of Heron Island, Great Barrier Reef
. J.G. Marshall & R. C. Willan.
[In] Sea Slug Forum.
Australian Museum, Sydney. Available from http://www.seaslugforum.net/factsheet/brmarwil1