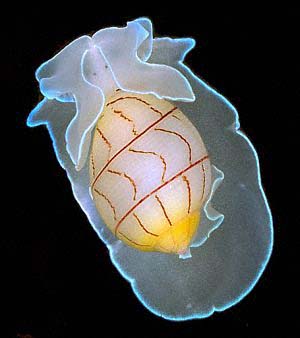 Bullina lineata
(Gray, 1825)
Order: CEPHALASPIDEA
Superfamily: ACTEONOIDEA
Family: Bullinidae

DISTRIBUTION
Found throughout the tropical and subtropical Indo-West Pacific. It is found intertidally and in the shallow intertidal through most of its range but at the temperate extremes it is usually found subtidally (Japan, New Zealand).
PHOTO
Shelly Beach, Manly, Sydney, New South Wales. October 1986. (Shell length 15mm). PHOTO: Bill Rudman.
Bullina lineata shows an interesting transition stage between the heavily shelled acteonids, such as Acteon and Pupa and the more lightly shelled hydatinids, such as Hydatina physis whose bright colourful animal dominates its body plan. The Family Bullinidae has a mixture of anatomical features, some common to the more primitive Acteonidae, and some to the Hydatinidae.
Bullina lineata retains a thin operculum and is able to retract completely back into its shell. Rudman (1971, 1972) suggested that the similarity of its foregut anatomy to that of Hydatina made it reasonable to assume that Bullina eats polychaete worms. Taylor (1986) reported the remains of sedentary cirriform polychaetes in the gut, which suggests that like Hydatina, they feed on cirratulid polychaetes. See photos of radular teeth.
Reference:
• Gray, J.E., (1825). A list and description of some species of Shells not taken notice of by Lamarck. Annals of Philosophy, or Magazine of Chemistry, Mineralogy, mechanics, and the Arts; by T.Thomson. New Series (Ed. R.Phillips), 9: 134-140, 407-415.
• Rudman, W.B. (1971) The genus Bullina (Opisthobranchia, Gastropoda) in New Zealand. J. Mal. Soc. Aust. 2(2): 195-203.
• Rudman, W.B. (1972) Studies on the primitive opisthobranch genera Bullina Ferussac and Micromelo Pilsbry. Zoological Journal of the Linnean Society, 51(2): 105-19, 8 figs.
• Taylor, J.D. (1986) Diets of sand living predatory gastropods at Piti Bay, Guam. Asian Marine Biology, 3: 47-58.
Authorship details
Rudman, W.B., 1998 (December 18)
Bullina lineata
(Gray, 1825).
[In] Sea Slug Forum.
Australian Museum, Sydney. Available from http://www.seaslugforum.net/factsheet/bullline