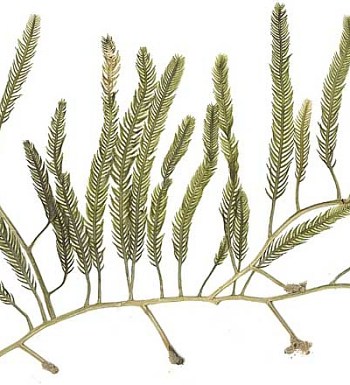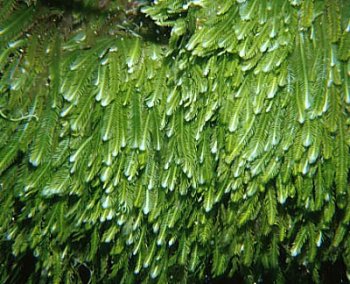 Caulerpa taxifolia in Australia

PHOTO
UPPER: Scanned herbarium specimen is about 11 cm high (From stolon to top of fronds). Photo: Alan Millar - Royal Botanic Gardens, Sydney.
LOWER: C. taxifolia in eastern Australian waters. Photo: Neville Coleman - World of Water.
RELATED TOPIC
C. taxifolia - introductions worldwide
DIVER ALERT !
An invasive, cold-water tolerant strain of the green macroalga Caulerpa taxifolia has been confirmed as growing in New South Wales waters. Unknown from mainland New South Wales, Australia, since records began with European settlement, we believe the NSW populations have been here for 5-15 years. This introduction is almost certainly the result of human activity. NSW Fisheries officers Markus Miller and Jack Hannan initially discovered the outbreak and sent specimens to Dr Alan Millar at the Botanic Gardens in Sydney for identification. This was confirmed by Prof. Alexandre Meinesz (University of Nice), who received specimens from Dr Millar, and has been involved with the outbreak in the Mediterranean since the late 1980s.
Three populations have been identified: two sites in Port Hacking, Sydney region, (Fishermans Bay and Gunnamatta Bay) that account for about 1 hectare of seabed, and almost the entire seafloor of the coastal lagoon of Lake Conjola, south of Jervis Bay in southern New South Wales. The latter site accounts for some 10 hectares.
A Caulerpa taxifolia Management Team has been set up between NSW Fisheries, the Sydney Botanic Gardens and CRIMP (Centre for Research on Introduced Marine Pests in Tasmania) so that any divers, be they recreational or commercial, who believe they have seen this species in NSW waters other than the above mentioned sites should contact either Dr Millar, Dr Darryl Grey of NSW Fisheries, or Dr Britta Shaffelke at CRIMP (see below). A full survey of Port Hacking [Sydney region] is presently underway and trial eradication methods are also being tested.
The alga is often refered to as toxic, but the toxin involved, Caulerpenyne, is a deterrent to fish and invertebrate grazing and the alga can be handled by humans without any problems. Because small fragmenst of the species can be transported and remain alive, the chances of further outbreaks along the coast are feasible. After first contacting Dr Millar, specimens collected should be placed in 70% alcohol in a snap-lock bag, placed into a jiffy bag and sent to Dr Alan Millar, Royal Botanic Gardens Sydney, Mrs Macquaries Rd, Sydney, NSW 2000.
Dr Alan Millar - (02) 9231 8136
Dr Darryl Grey - (02) 4916 3911
Dr Britta Shaffelke (03) 6232 5407
Authorship details
Millar, A., 2000 (September 8)
Caulerpa taxifolia
in Australia.
[In] Sea Slug Forum.
Australian Museum, Sydney. Available from http://www.seaslugforum.net/factsheet/caultaxi2