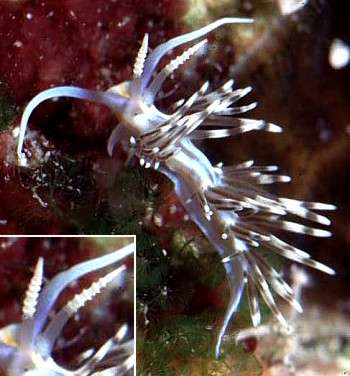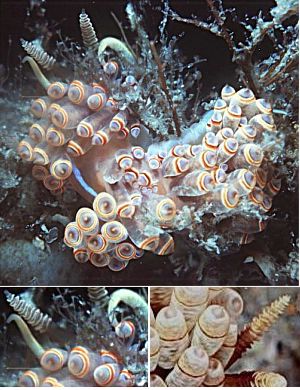 Dondice occidentalis
(Engel, 1825)
Order: NUDIBRANCHIA
Suborder: AEOLIDINA
Family: Glaucidae

DISTRIBUTION
Recorded from Brazil (Sao Paulo) to North Carolina, USA, and many parts of the Caribbean.
PHOTO
UPPER: Ranguana Caye on hydroids, Belize, Caribbean Sea, 1992. Size range from 14 - 20 mm. PHOTO: Jeff Hamann.
LOWER: off West Palm Beach, Florida, USA, in about 10 feet of water. From 1/2 inch to 1 inch long. Insets showing colour variation in 2 animals. PHOTO: Anne Dupont.
Body translucent with following markings. On head there is a median line of variable width, running from the anterior edge to just behind the rhinophores. This ranges in colour from red to orange or yellow. Behind the rhinophores there is usually a white broken line down the dorsal midline, but it can sometimes be absent. There is a line on each side of the body from the head to the tail but usually broken beneath the ceratal groups. It also ranges in colour from red to yellow and has been reported to be white or absent in some cases. In other cases there is a yellow and a white line along each side.
The cerata can have broad white bands or white blotches covering the upper two thirds and sometimes there is a bright red or orange band near the tip. Another character mentioned by some authors is that the jaws plates are covered by a black epithelium which can show through the body wall as a black patch on each side of the head. The rhinophores are annulated with up to 18 rings.
References:
• Edmunds,M (1964): Eolid mollusca from Jamaica, with descriptions of two new genera and three new species. Bulletin of Marine Science of the Gulf and Caribbean, 14(1): 1-32
• Eyster,LS (1980): Distribution and reproduction of shell-less opisthobranchs from South Carolina. Bull. Mar. Sci., 30(3): 580-599.
• Marcus, Er (1958) On western Atlantic opisthobranchiate gastropods. Am. Mus. Novit., 1906: 1-82.
• Marcus, Er (1961) Opisthobranchia from North Carolina. Journal Elisha Mitchell Scientific Society, 77(2): 141-151.
• Marcus, Ev (1977) An annotated checklist of the western Atlantic warm water opisthobranchs. J. Moll. Stud. (Suppl. 4): 1-23.
• Marcus, Ev & Marcus, Er (1960) Opisthobranchs from American Atlantic warm waters. Bull. Mar. Sci., 10(2): 129-203.
• Marcus, Ev & Marcus, Er (1963) Opisthobranchs from the Lesser Antilles. Studies on the Fauna of Curacao and other Caribbean Islands, 19: 1-76.
• Marcus, E. & Marcus, E (1970) Opisthobranchs from Curacao and faunistically related regions. Studies on the Fauna of Curacao and other Caribbean Islands, 33: 1-129.
• Thompson,TE (1980): Jamaican opisthobranch molluscs: II. J. Moll. Stud., 46(1): 74-99.
Authorship details
Rudman, W.B., 2001 (August 1)
Dondice occidentalis
(Engel, 1825).
[In] Sea Slug Forum.
Australian Museum, Sydney. Available from http://www.seaslugforum.net/factsheet/dondocci