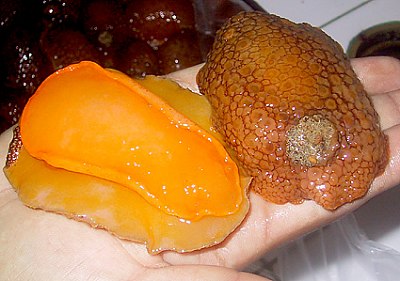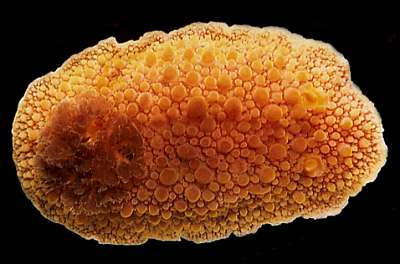 Doris fontainei
d'Orbigny, 1837
Order: NUDIBRANCHIA
Suborder: DORIDINA
Superfamily: EUDORIDOIDEA
Family: Dorididae

DISTRIBUTION
Both Pacific and Atlantic coasts of southern Sth America from northern Argentina to southern Peru.
PHOTO
UPPER: Independence Bay, 260km south of Lima, Peru. 2 to 16 meters deep. 2-9 cm long. Photo: Jorge Luque.
LOWER: Bay of Coliumo, central Chile, 5.5 cm long [see Schroedl (1997b)]. Photo: Michael Schroedl.
The mantle is highly arched and covered in large rounded tubercles which can reach 5mm or more in diameter in the midregion but be somewhat smaller towards the edge. The body ranges in colour from yellow or yellow-orange to brownish and often the space between the tubercles forms a network of brown. Sometimes the center of large tubercles is a darker color than the rest of the tubercle. There are 5-7 large tripinnate gills, and the oral tentacles are flattened and triangular with a groove along the outer edge. The front of the foot is bilabiate, that is split into upper and lower flaps, but the upper flap is not notched. Grow to at least 118mm long and 65mm wide. Schroedl (1997b, 2000) describes the anatomy of this species and compares it with other similar dorids described from the same region. He identifies it as Anisodoris fontaini. In a recent review, Valdés & Muniain (2002) reassess the taxonomy of this species and rename it Doris fontainei. See the attached messages for a discussion about these changes.
References:
• D'Orbigny, A. (1835-46) Voyage dans l'Amérique Méridionale exécuté pendant les années 1826-1833. Vol. 5. Mollusques. Libraire de la Société geologique de France: Paris. 758 pp. plus Atlas.
• Schroedl, M (1997a) Range extensions of Magellanic Nudibranchs (Opisthobranchia) into the Peruvian faunal province. The Veliger, 40(1): 38-42.
• Schroedl, M. (1997b) On the morphology of the Magellanic nudibranch Anisodoris fontaini (D'Orbigny, 1837), and its synonymy with A. tessellata Bergh, 1898. Veliger 40: 228-233.
• Schroedl, M. (2000) Taxonomic revision of the common South American nudibranch Anisodoris fontaini (D'Orbigny, 1837), with discussion of its systematic placement. Journal of Molluscan Studies 66: 49-61.
• Valdés, A. & Muniain, C. (2002). Revision and taxonomic reassessment of Magellanic species assigned to Anisodoris Bergh, 1898 (Nudibranchia: Doridoidea). Journal of Molluscan Studies, 68: 345-351.
Authorship details
Rudman, W.B., 2002 (October 23)
Doris fontainei
d'Orbigny, 1837.
[In] Sea Slug Forum.
Australian Museum, Sydney. Available from http://www.seaslugforum.net/factsheet/dorifont