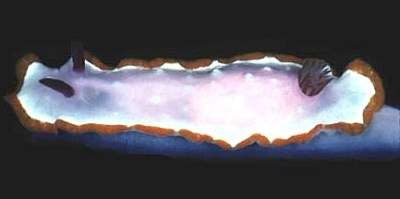 Mexichromis? sp. 1.

Order: NUDIBRANCHIA
Suborder: DORIDINA
Superfamily: EUDORIDOIDEA
Family: Chromodorididae

PHOTO
Beneath Tengan Pier, Okinawa, amid rubble and silty-sand, 12m. TL: 29mm. March, 1991. [RFB # 2486-E]. PHOTO: Bob Bolland.
Note added 3 August 2000: I have moved this to the Mexichromis mariei page, where there are messages showing a range of forms with and without dorsal tubercles and spots... Bill Rudman.
See message.