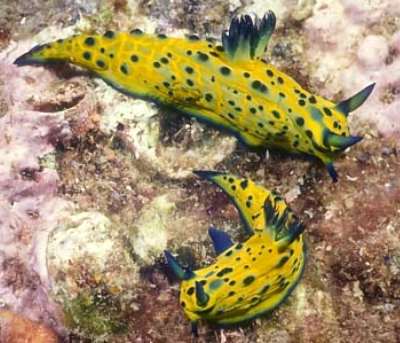 Tambja? gratiosa
(Bergh, 1890)
Order: NUDIBRANCHIA
Suborder: DORIDINA
Superfamily: ANADORIDOIDEA
Family: Polyceridae
Subfamily: Nembrothinae

DISTRIBUTION
Known only from Key West Florida
PHOTO
Moorehead City, North Carolina, USA. Atlantic Ocean. Depth: 55 feet. Length: 2 inches. 1992 shipwreck. Photographer: Herb Segars
In Bergh's original description of Nembrotha gratiosa he notes that the colour information is of the living animal. He notes that the background colour is yellow with blue-black spots, the rhinophores are blue-black above and yellow below, and the gills are yellow below with blue-black edges. He also describes the edge of foot with blue black line, and the sole of the foot as yellow [rough translation of the German]. The specimen was collected from the Dry Tortugas, off Key West, Florida.
A photo [see Herb Segar's message #14281] from North Carolina matches this description. There is also a photo on Mike Miller's website, of what is surely this species, [see message #11625]. That photo, from Carol and Bob Cox, was of a small specimen, probably about 1/2 inch long. It was found and photographed on a sponge on a natural limestone reef about 4 miles out of the Destin, Pass, Destin, NW Florida, Gulf of Mexico. 
As I mentioned earlier, one problem I cannot resolve is the generic position of this species. Bergh's anatomical description includes radular drawings showing a cuspless median tooth and a large bicuspid inner lateral tooth which are typical of a species of Tambja. Burn (1967), on the basis of this radular description placed this species in the genus Tambja, a decision follwed by all subsequent workers. However now that we have photos of the live animal it is clear that it has long rolled oral tentacles which are particularly obvious on the Cox photo. The head of species of Tambja is quite different, with a pair of plate-like lappets, rather than elongate tentacles, flanking the mouth. There are good photos of this on the Forum [T. morosa - #10513; T. olivaria - #12539]. The only genus with large enrolled oral tentacles like this is Roboastra [see Roboastra gracilis].
So on oral tentacles this is a species of Roboastra, but on radular anatomy it is a species Tambja. Clearly this can only be resolved by dissecting a specimen. One real possiblity is that the radula that Bergh described belonged to a species of Tambja which had been eaten by the Roboastra. Stranger mistakes have occurred in the history of nudibranch taxonomy. I guess we should call it Tambja? gratiosa until the morphology of its radula can be re-examined.
See discussion [#14292] on its similarity to Tambja stegosauriformis.
Bergh, L. S. R. (1890): Report on the nudibranchs. Report on the results of dredging, under the supervision of Alexander Agassiz, in the Gulf of Mexico (1877-1878) and in the Caribbean Sea (1879-1880), by the U.S. Coast Survey steamer "Blake", Lleut.-Commander C. D. Sigsbee, U.S.N., and Commander J. R. Bartlett, U.S.N., commanding.  19(3), 155-181 Pls.1-3. [172-5, Pl.2 figs 1-5. Pl.3 figs 1-4]
Burn, R.F. (1967): Notes on an overlooked nudibranch genus Roboastra Bergh 1877, and two allied genera (Mollusca: Gastropoda). Australian Zoologist, 14: 212-221.
Pola, M.P., Cervera, J. L. & Gosliner, T.M. (2005). A new species of Tambja (Nudibranchia: Polyceridae: Nembrothinae) from southern Brazil. Journal of the Marine Biological Association, U.K., 85, 979-984.
Authorship details
Rudman, W.B., 2005 (July 19)
Tambja? gratiosa
(Bergh, 1890).
[In] Sea Slug Forum.
Australian Museum, Sydney. Available from http://www.seaslugforum.net/factsheet/tambgrat