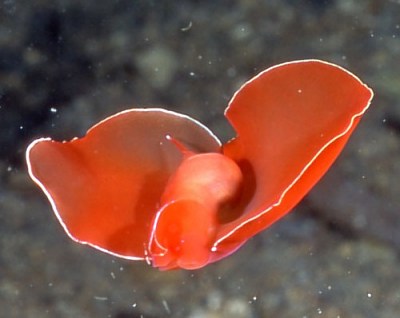 Gastropteron rubrum
(Rafinesque, 1814)
Order: CEPHALASPIDEA
Superfamily: PHILINOIDEA
Family: Gastropteridae

DISTRIBUTION
Mediterranean, Atlantic coast from southern France to Morocco. Found from shallow sublittoral to 300m.
PHOTO
Antibes, French Mediterranean Sea. sandy bottom -30-40m. August 2001. UPPER RIGHT: antero-dorsal view of swimming animal. LOWER LEFT: Right side of animal - head at right. LOWER RIGHT: Ventral view of swimming animal - head at upper right. PHOTOS: Michel Dune.
Animal reddish purple, orange-red or pink with white or bluish-white border to parapodia and posterior end of head shield. Scattered bluish white spots on outside of parapodia. Grows to 35mm long. Like most gastropterids it is able to a swim by flapping its muscular parapodia.
Many Europeans workers have considered the name Gastropteron rubrum (Rafinesque, 1814) to be a junior synonym of G. meckeli Kosse, 1813, but Kosse in fact never introduced a species name. See messages from Bill Rudman and Schroedl & Koehler.
This species has been reported from the west Atlantic from Florida to Sao Paulo, Brasil, but Gosliner (1989) considers all records of G. rubrum from the western Atlantic to be misidentifications of Gastropteron chacmol.
References:
• Abbott, R.T. (1954) American Seashells. van Nostrand: Mew York. 541pp [and later editions]
• Blainville, H. M. D. 1825, Manuel de malacologie et de conchyliologie, vii + 647 pp. Leurault, Paris [Atlas of Plates (1-87) published 1827].
• Ferussac, A,. 1822. Tableaux systematiques des animaux mollusques, classes en familles naturelles, dans lesquels ou est etabli la concordance de tous les systemes. Suivis d'un Prodrome General. xlvii + 110pp.
• Fischer, P. 1910. Observations sur la synonymie et l'habitat du Gastropteron rubrum Rafinesque. Journal de Conchyliologie, 30(4): 349-353.
• Gosliner, T.M. (1989): Revision of the Gastropteridae (Opisthobranchia: Cephalaspidea) with descriptions of a new genus and six new species. The Veliger, 32(4): 333-381.
• Kosse, J.F.J., 1813. De Pteropodum ordine et nova ipsius Genera. p10-16, figs 11-14. Thesis: Halle
• Marcus, Ev. & Marcus, Er. (1960)Opisthobranchs from American Atlantic warm waters. Bulletin of Marine Science of the Gulf and Caribbean, 10(2): 129-203.
• Rafinesque, C. S., 1814. Quadro dei generi di Moll. pteropodi dei Signore Peron e Lesueur, dal Signor C. S. Rafinesque Schmaltz. Specchio delle scienze, Giornale Encyclopedico de Sicilia Palermo, 2(11):153-154.
• Rafinesque, C. S., 1814. Precis des decouvertes somiologiques ou zoologiques et botaniques, p. 30. Palermo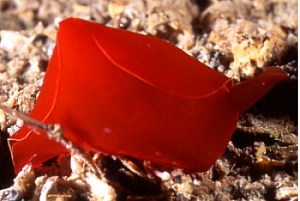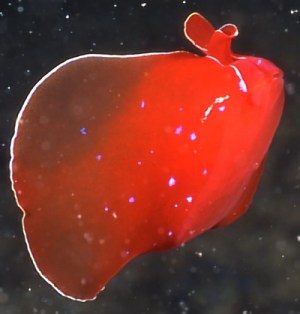 Authorship details
Rudman, W.B., 2001 (September 2)
Gastropteron rubrum
(Rafinesque, 1814).
[In] Sea Slug Forum.
Australian Museum, Sydney. Available from http://www.seaslugforum.net/factsheet/gastrubr