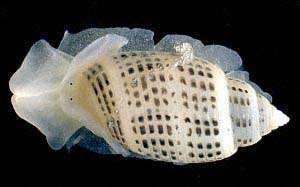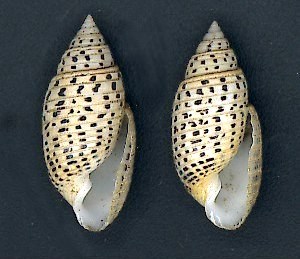 Japonacteon suturalis
(A. Adams, 1855)
Order: CEPHALASPIDEA
Superfamily: ACTEONOIDEA
Family: Acteonidae

DISTRIBUTION
Tropical Indo-West Pacific.
PHOTO
UPPER: Kunduchi Beach, Dar es Salaam, Tanzania, July 1973. LOWER: Shells, Roebuck Bay, Broome, NW Australia on sandy mudflats, October 1972, AM C46379, 19mm high. PHOTOS: Bill Rudman
There are a number of similarly coloured acteonids found in tropical waters and if you carefully examine lots of shells in museums collections you will often find there are two or three species with black-spotted white shells mixed together. They all have a spiral pattern of black spots and can often be found living together. The two most common species mistaken for Japonacteon suturalis are Pupa strigosa (Gould, 1859) and Pupa solidula . All of these species are found burrowing shallowly through sand and feed on a variety of polychaete worms.
This species differs from the species of Pupa in having a channeled groove along the suture and a single fold on the columella.
Reference:
• Adams, A., (1855) (for 1854). Monographs of Actaeon and Solidula, two genera of gasteropodous mollusca with descriptions of several new species from the Cumingian collection. Proceedings of the Zoological Society of London,22: 58-62.
Authorship details
Rudman, W.B., 1998 (December 18)
Japonacteon suturalis
(A. Adams, 1855).
[In] Sea Slug Forum.
Australian Museum, Sydney. Available from http://www.seaslugforum.net/factsheet/japosutu