December 19, 2003
From: Jeannine Dietz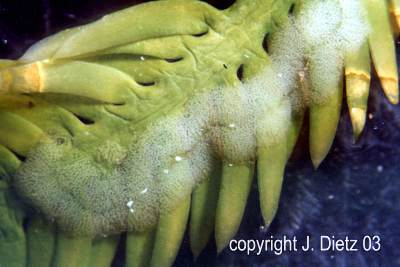 Dear Bill,
I'm working on the green algae Caulerpa taxifolia around the Island of Elba in the Mediterranean Sea. Last year in August I found some gastropod eggs on fronds of Caulerpa taxifolia at a depth of 9m. I have attached photos of them.
The eggs from the upper three are from chromodorids, I guess. The eggs on the last picture may also be from a nudibranch, but I have no idea about family or species. Unfortunately I am not an expert concerning marine snails. Therefore I would kindly ask for your support to determine the different species.
I know it is quite difficult to do so (especially from these photographs only), but maybe you can tell me at least about the families. Thank you very much for your interest and effort.
Yours sincerely
Jeannine Dietz
Biologist at the Institute of Freshwater Ecolgy and Fisheries (IGB)
Biologist at the HYDRA-Institute of Marine Science (Elba Island, Italy)
Berlin, Germany
jeanninedietz@web.de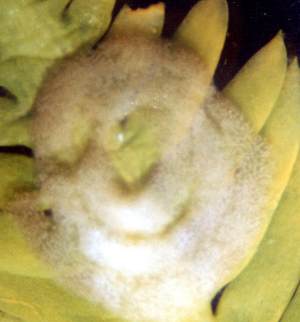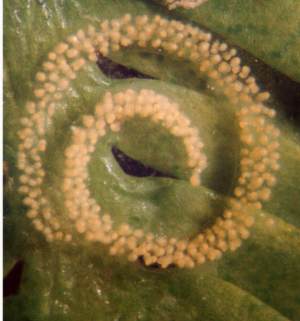 Dietz, J., 2003 (Dec 19) Eggs on
Caulerpa taxifolia
.
[Message in] Sea Slug Forum.
Australian Museum, Sydney. Available from http://www.seaslugforum.net/find/11665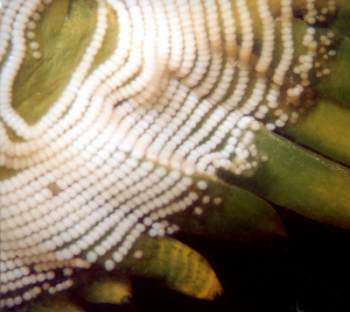 Dear Jeannine,
Without local knowledge it is veru difficult to identify egg ribbons except in special circumstances. On intertidal shores around Sydney I can identify the egg masses of about 10 gastropods, because they have a distinctive shape and because I know from local knowledge that they are the only species around that lays that type of egg. Once you get into a geographic area where the fauna is more diverse, and we know relatively little about it, then the chances of correctly identify an egg mass get very small. At a guess the top two could be sacoglossan egg ribbons and the third could be a sacoglossan. The fourth doesn't look like an opisthobranch to me at all and is most likely that of a snail. For that matter they could all be snail egg masses. One way to distinguish opisthobranch eggs from other marine gastropods is to see where the eggs are in transparent capsules within the egg ribbon - either one egg per capsule, or in a few cases 2-3 eggs per capsule. If the capsules are linked to one another by a small string then you have the eggs of a Heterobranch gastropod [opisthobranch, pulmonate etc]. There eggs are always in capsules attached together like a string of beads. Unfortunately I can't see that detail in your photos.
Best wishes
Bill Rudman
Rudman, W.B., 2003 (Dec 19). Comment on Eggs on
Caulerpa taxifolia
by Jeannine Dietz.
[Message in] Sea Slug Forum.
Australian Museum, Sydney. Available from http://www.seaslugforum.net/find/11665
---
Factsheet