March 19, 2004
From: Mike Cheney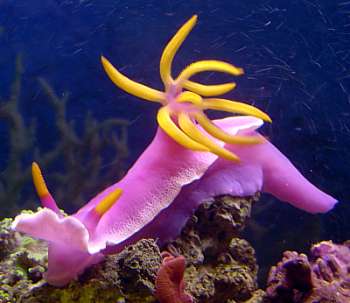 Dear Bill,
Thanks for your response [#12442]. I kinda knew what you were probably going to say. Since I wrote to you I tried the email address of the person who said they were keeping the Nudibranch alive, but it waas returned. I also Google searched for "Nudibranch growers," a few hits but all were dead ends. If there are any "Nudibranch growers" they aren't on the web. Probably because there is no such thing at this point. Too bad, if someone could develop a method of growing these creatures, like they have done for the seahorse (see: www.oceanrider.com), which was once thought impossible, they could make a fortune. Tank raised Nudibranchs would make stunning addition to marine aquariums across the world, without depleting the natural populations. Tank raised Nudibrachs would be more desirable than wild caught, like tank raised seahorse which eat manmade food. Also Nudibranchs would have a big market than seahorse have since they would be compatable with any marine aqaurium community, unlike seahorse which are very limited in the number of species that they are compatable with.
Thanks for correcting my ID of the Nudibranch, I just picked one that looked close to me. You have a huge website and so I just settled on this one as it looked very similar. As for my Hypselodoris apolegma, I gave it back to the dealer with about eight pages that I took off of your website explaining that I couldn't watch it starve to death. She said she would try to keep my Nudibranch alive for me in her Live Rock holding tank using some of the ideas she found in the post. She is going to try using the 'Angel Formula' food which has sponge in it and can be anchored on the side of a tank allowing fish and perhaps Nudibranchs to graze. However, she admitted that she had never been successful in keeping Nudibranchs before and knew that they inavariblly died in captivity after about a month or two although she didn't know it was from starvation. She believed that they were just short lived like annual flowers or something.
I'll let you know if she is successful.
Thanks for all that great work you do here.
Cordially,
Mike Cheney
High School Science Teacher
cheney777@yahoo.com
Cheney, M., 2004 (Mar 19) Re:
Hypselodoris bullocki
- feeding and care.
[Message in] Sea Slug Forum.
Australian Museum, Sydney. Available from http://www.seaslugforum.net/find/12483
Thanks Mike,
I guess you have found the messages on the Keeping in captivity Page. There is one I am posting today [#12450] which describes the Angel Fish food. It will be interesting to hear if your dealer can get it to work
Best wishes
Bill Rudman
Rudman, W.B., 2004 (Mar 19). Comment on Re:
Hypselodoris bullocki
- feeding and care by Mike Cheney.
[Message in] Sea Slug Forum.
Australian Museum, Sydney. Available from http://www.seaslugforum.net/find/12483
---
Factsheet