June 20, 2005
From: Mike Roberts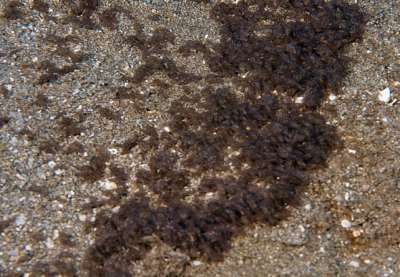 Hi
Leslie Harris suggested I send you the information and pictures I posted on Digitaldiver.net of a mass of sea hares and one of their predators. I hope this is of interest to you.
Locality: Ulua Beach, Wailea, Hawaii (Maui). Depth: 40-50 ft. Length: varied. 05 and 06 May 2005. Sand. Photographer: Mike Roberts
A couple of weeks ago, I came a across a phenomenon I have seen only twice before in many years of diving Maui. If I wasn't a photographer or if I had been in that "WA  state of mind," I would have likely missed it altogether. At first glance, it is like swimming by windrows of decay or algae rolling in the surge. These "rivers" are meandering across the sand flowing together, then apart. Some are separate small "streams," while others are wide flowing "channels." With a little closer observation, it becomes apparent that these are slugs. Literally thousands upon thousands of Lined Sea Hares [Stylocheilus striatus] to be exact, forming rivers of slugs climbing on top of each other with a definite plan of going south.
On an even closer inspection the individual slugs could be spotted in all sizes from large – for a sea hare anyway – to those that seem freshly hatched

Cute little guys but they were the 'hors deuvres' of the day. Stripebelly puffer fish just rested next to the line of food, looking like so many Jabas while gorging themselves well beyond capacity.

Then I saw a nudi I had never seen before. [see separate message #14082 ] He was a mean machine with body lines that would make Fisher jealous. He was certainly built for speed!  This efficient little machine was just zooming along in haphazard patterns until he caught the "scent" of a hare in his path. Then, without missing a beat, the hare would be sucked into his powerful manifold and he would move on to the next one. Even though there were dozens of these sleek nudis driving around in circles and slurping up the little morsels, even though the puffers stationed along the rivers were too fat to swim, the hares didn't seem to understand they were lunch. But it didn't matter in the big scheme. They had numbers on their side. And they just kept marching south.

[See Digitaldiver.net -http://www.digitaldiver.net/index.php ]
Mike Roberts
mike@tortuga-web.com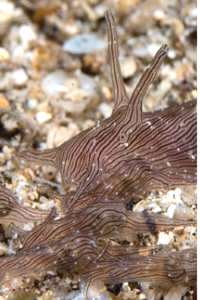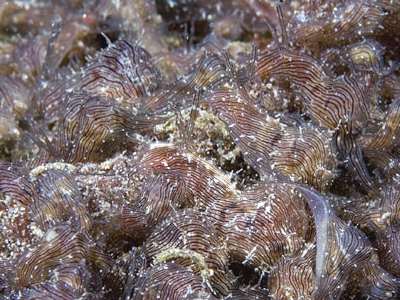 Roberts, Mike, 2005 (Jun 20) 1000s of Sea Hares in Hawaii.
[Message in] Sea Slug Forum.
Australian Museum, Sydney. Available from http://www.seaslugforum.net/find/14074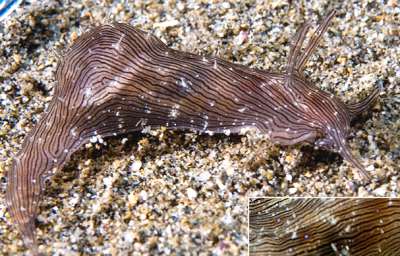 Dear Mike,
Thanks for another record of this fascinating behaviour. We have two earlier records on the Forum of this mass swarming of Stylocheilus in Hawaii [Cory Pittman - #424; John Hoover - #6681]. Have a look at my comments on this phenomenon attached to those messages, and the mass mortality Fact Sheet, where I discuss the mass swarming behaviour found in many Sea Hares. We can't really say why there are so many together like this, so using terms like migration and even aggregation or swarming suggest things which we are not sure about. I  tend to think these animals settle out of the plankton and grow close to where they settle only becoming noticeable when the oldest cohort in the population reach adulthood. Perhaps a clue is their food. They feed on a brownish layer of blue-green algae or more properly cyanobacteria. If you look at your upper photo you will see a brownish stain across the sand which is what they are feeding on. I suspect environmental conditions may cause the cyanobacteria to be arranged unevenly on the sand and the 'rows' or 'streams' of Stylocheilus may reflect the distribution of the brown 'stain' they feed on. Whether they are actually 'going anywhere' - like in a spiny lobster migration - is most doubtful.
What makes your record particularly interesting is the observation of the two predators, a species of puffer fish, and the cephalaspidean sea slug Philinopsis cyanea . I have put your photos of Philinopsis in a separate message #14082. Your message on Digitaldiver.net also generated another interesting record of mass swarming in Stylocheilus striatus from the Caribbean [see message #14080]. Any time you witness nudibranchs and related sea slugs 'doing things' like this - think of us obsessive students of sea slugs - such messages are always welcome.
Best wishes,
Bill Rudman
Rudman, W.B., 2005 (Jun 20). Comment on 1000s of Sea Hares in Hawaii by Mike Roberts.
[Message in] Sea Slug Forum.
Australian Museum, Sydney. Available from http://www.seaslugforum.net/find/14074
---
Factsheet