May 31, 2006
From: Kevin Lee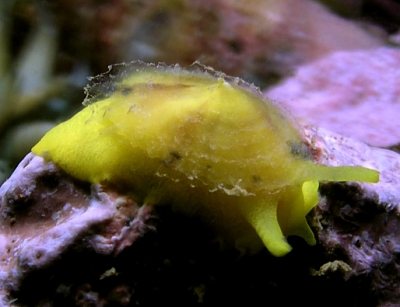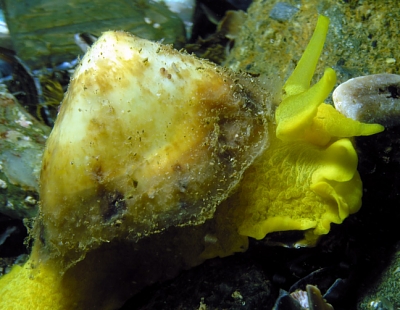 Hi Doc,
In reviewing some past images of the Tylodina fungina  (Mushroom Sidegill), one of the few nudibranchs with an external shell, I was struck by the transparency of the juvenile shell. Thought our group might be interested. The juv measures about 0.75 inch in length; whereas, the adult is a whopping 3 inches! I've also included the nud, snugly enscounced in the yellow sponge on which it feeds.

Locality: Shaw's Cove, Laguna Beach, ranging from 15 to 20 feet, California, USA, Eastern Pacific, Upper photo: 06 Jan 2005 juv, Length: 0.75 inch; Middle photo: 14 Dec 2004 adult, 3.0 inch adult; Lower photo:  24 Dec 2004 on sponge, 1.5 inch.  rocky reef substrate, Photographer: Kevin Lee.
K:-)
diverkevin@gmail.com
Kevin Lee, 2006 (May 31)
Tylodina fungina
- variable shell shape.
[Message in] Sea Slug Forum.
Australian Museum, Sydney. Available from http://www.seaslugforum.net/find/16722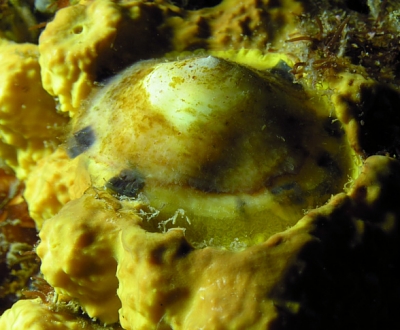 Dear Kevin,
Your photos certainly show quite a difference in shell shape and I firts wondered whether the juvenile was Anidolyta spongotheras (Bertsch, 1980), a related animal from your part of the world with more flattened shell. I am sure that Dave Behrens will let us know if I am wrong, but I think the animal in your photo is clearly that of Tylodina, and if you look at other photos on the Forum of this species, there is a gradual 'heightening' of the shell as it grows larger.

Thanks for the nice photo of it sitting on its food sponge, Aplysina fistularis. You describe it as 'one of the few nudibranchs with an external shell'. Unfortunately 'nudibranch' is often used to mean 'sea slug' which is not correct. The scientific word for sea slugs is opisthobranch. Nudibranchs are just one 'Order' of the opisthobranchs, some others being the cephalaspideans (bubble-shells etc), the sacoglossans, and the sea hares. The order Notaspidea (side-gilled slugs) is a bit of a problem at the moment because its seems the external shelled Tylodinoidea and the internal shelled Pleurobranchoidea are quite unrelated. For that matter, even the Tylodinidae and the Umbraculidae don't sit well together. Although problems like this are a nuisance for 'list makers', they do indicate that people are studying the group and finding out new things, which is good. So don't lose any sleep over it but it is better to use 'sea slugs' or 'opisthobranchs' as a general term.
Best wishes,
Bill Rudman
Rudman, W.B., 2006 (May 31). Comment on
Tylodina fungina
- variable shell shape by Kevin Lee.
[Message in] Sea Slug Forum.
Australian Museum, Sydney. Available from http://www.seaslugforum.net/find/16722
---
Factsheet