January 22, 2007
From: Wilhelm van Zyl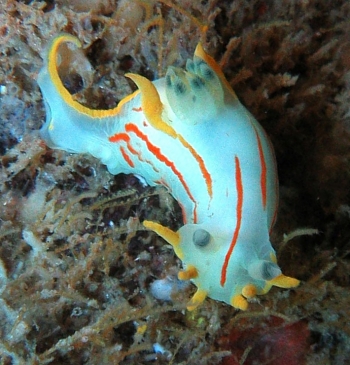 Dear Bill,
Following on from my earlier message [#19276] about Polycera capensis being one of the more common species of nudibranch we find on dives around the Cape peninsula. Here are two more colour variants. In the upper photo is an animal I recently saw with orange lines instead of the usual black lines. I went back to my older pictures and noticed that some of the animals that I considered to be white also had a very faint orange line (lower photo).
Locality: Cape Peninsula, 10 - 20m, South Africa, Atlantic Ocean, 2005 - 2006, Wrecks. Length: 5cm. Photographer: Wilhelm van Zyl.
Regards
Wilhelm
diving@cyberdale.co.za
Van Zyl, F.W., 2007 (Jan 22) First record of
Polycera chilluna
from S.Africa?.
[Message in] Sea Slug Forum.
Australian Museum, Sydney. Available from http://www.seaslugforum.net/find/19278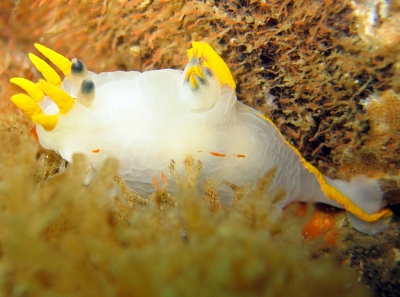 Note added 9 February 2007: See photo of this form and P. capensis about to mate [message #19387] suggesting this is a colour form of P. capensis.
Dear Wilhelm,
Thanks for these photos. I think they are more exciting than strange colour forms of P. capensis. I am pretty sure they are 'albino' forms of Polycera chilluna, a species first described from the Atlantic coast of Nth America. We have a number of records of it on the Forum, and you will see that I consider the east Atlantic species P. aurantiomarginata to be a synonym. As P. aurantiomarginata, it has been recorded from as far south as Angola on the west African coast, some it is not that strange for it to occur in the cape region of South Africa.
You will notice that in many photos of P. chilluna, the yellow lines have become an orange-brown as in your animals. The other distinctive difference is that the rhinophores, rather than being entirely black as in P. capensis, have a black subapical band, which is also present in P. chilluna. The gills in P. capensis are also black with a yellow tip, while the gills in P. chilluna also have a subapical black band - sometimes obscured in heavily pigmented animals. The gills also have a yellow band up both the inside and outside edge of each gill in P. chilluna while in P. capensis, yellow pigment on the gill is restricted to the tip. In your photos I can see a short yellow streak down the outer edge of the gills in one animal ad trabes of yellow streaks down both te inside and outside of the gills in the other.
P. chilluna usually has a greyish black background colour, but if this was missing, your animals could clealry be that species. Some animals which have been identified as P. quadrilineata, also look like P. chilluna, but the upper half of the rhinophores is yellow. P. quadrilineata appears to be another exampe of a polycerid with black and white colour forms.
It would be nice to have some more photos showing the gills more clearly, if you have any. What I am specifically looking for is traces of a yellow line up the inneer and outer edges. Also it would be nice to know if these 'colour forms' are associated with the same or different bryozoan colonies. It might be one more character we could use to determine if they are different. This is an interesting observation.
Best wishes,
Bill Rudman
Rudman, W.B., 2007 (Jan 22). Comment on First record of
Polycera chilluna
from S.Africa? by Wilhelm van Zyl.
[Message in] Sea Slug Forum.
Australian Museum, Sydney. Available from http://www.seaslugforum.net/find/19278
---
Factsheet