February 14, 2007
From: Belinda Allman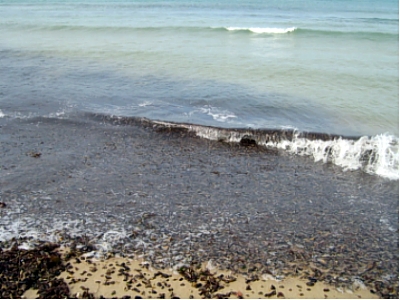 Dear Bill,  
Over the past month your Sea Slug Forum has been a great reference to our organisation, most especially to me. Although my expertise lay in other areas of natural resource management, my general knowledge of coastal marine ecosystem was called on during the past holiday period at Killick Beach and Killick Creek estuary [Crescent Head, northern New South Wales, Australia] to monitor red macroalgae blooms and sea hare strandings for Kempsey Shire Council and  DPI fisheries. In total there were two strandings at Crescent Head and one at Point Plomer, 14 km south of Crescent Head.

In the first stranding, [4 January, 2007], tens of thousands of sea hares stranded on the spring tide, probably pushed ashore by moderate prevailing north east onshore winds, along the ocean shore of Killick Beach and Killick Creek. There was a second stranding on 14 January. Although this event was not as large, more varied marine algae species were involved and there seemed to be two species of sea hares. I have attached photos of the dominant species, which was also the species found in the first stranding. The other species, which I haven't photos of, was lighter and smaller. 
Between Christmas and New Year this region often experiences a few days of cooler intertidal ocean temperatures. This year the low temperatures lasted almost a month and were experienced much further down the coast.  I am no expect in this field but I cannot help but feel that the turbulent currents that dislodged the sea hares (and marine algal also) had something to do with the upwelling of cold ocean waters, the edge of the continental shelf being very close at this part of the coast. However, I am of the assumption we probably will never know the reason for these events.
I am just preparing a report on the strandings. The Sea Slug Forum has provided me with all the background info I require, however a positive I.D of the most dominant species would be valuable. Again, thank you for your interest and support with the sea hares stranding. It has definitely inspired me.
Kind regards,
Belinda Allman B.App.Sc.
Acid Sulfate Soils Project Officer
Kempsey Shire Council
Belinda.Allman@kempsey.nsw.gov.au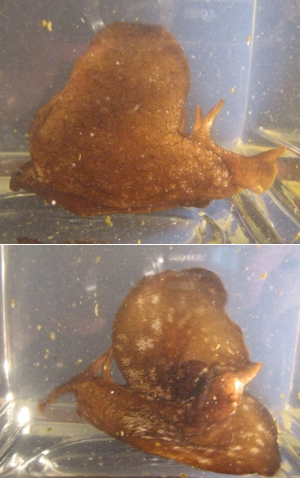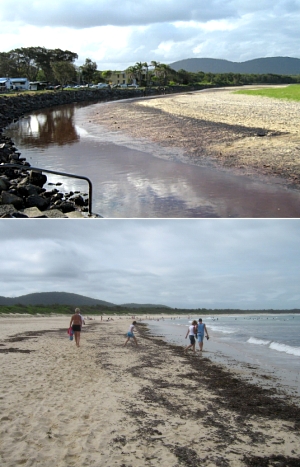 Allman, B., 2007 (Feb 14) Mass Stranding of Sea Hares in nthn New South Wales.
[Message in] Sea Slug Forum.
Australian Museum, Sydney. Available from http://www.seaslugforum.net/find/19452
Dear Belinda,
I am glad the Forum could be of help. As two earlier messages on the Crescent Hd strandings demonstrate, [messages #19232, #19225], these mass mortalities do alarm members of the public, and the smell of dead animals and the fear of environmental catastrophe can upset the relaxing effect of a summer holiday at the beach. The species of Sea Hare you have sent photos of is Aplysia extraordinaria which can grow even longer than the 11 cm of your largest. It's possible a second species was present as well, but it could have been one of about three species.
PHOTOS: Upper right: sea hares stranded on ocean beach - 14 January 2007. Lower left: living sea hare - 11 cm long. Lower right: Upper photo showing stranded animals which had been washed far up the creek at high tide and stranded as the tide receded - 4 January 2007. Lower photo showing sea hares stranded along the ocean beach after second and smaller stranding of 14 January. Photos: Belinda Allman.
Thanks for keeping us informed
Best wishes,
Bill Rudman
Rudman, W.B., 2007 (Feb 14). Comment on Mass Stranding of Sea Hares in nthn New South Wales by Belinda Allman .
[Message in] Sea Slug Forum.
Australian Museum, Sydney. Available from http://www.seaslugforum.net/find/19452
---
Factsheet