April 4, 2007
From: Jennifer Beatty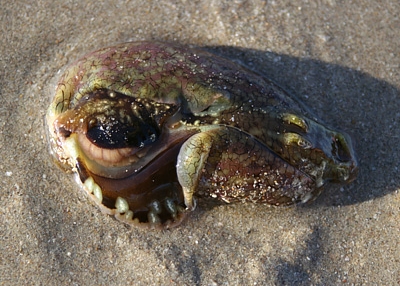 Hi!
I'd like to know what tide-pool slug I happened upon last weekend in Peurto Penasco Mexico - in the north eastern area of the Sea of Cortez.
It was pretty stormy and windy before we got there and there were quite a few animals on the beach in the morning, including this curious slug that was on its last leg when I got to him. We gathered him up with some water and sand and returned him to a nice calm tide-pool.
When I found him he was rolled up , possibly a defense mechanism? The outside or underside was the green and purple, however when we put him in the water he had the two distinctive slug antenae in the front and two auxilliary just behind those for a total of four.
He also opened up a bit to expose his other skin which is the brown with purple spots. He was pretty big, about the size hot dog bun rolled up and after he opened up, it seems like he might have been roundish in shape , like the size of a small saucer.
Just curious what he was and some characteristics about him - also is he the poisonous type?
Locality: Peurto Penasco, in tide pool, Sonora, Mexico, Sea of Cortez, 24 March 2007, Washed up on Intertidal Beach. Length: 8 inches. Photographer: Jennifer Beatty.
Jennifer Beatty
jlbeatty22@gmail.com
Beatty, J.L., 2007 (Apr 4) Sea of Cortez Mystery Slug.
[Message in] Sea Slug Forum.
Australian Museum, Sydney. Available from http://www.seaslugforum.net/find/19781
Hi Jenny,
The animal you came upon is what is commonly called the California sea hare, Aplysia californica. The frontal pair of distinctive antennae, as you refer to them, are the head tentacles and the second pair are where this group gets the name "sea hare." Presumably they look like rabbit ears. Actually these are the rhinophores, or sensory organs used as chemo-detectors, for locating the algae species these very large slugs feed on.
When your critter "opened up" its was folding its large parapodia (extensions of the mantle) exposing the mantle cavity and internal organs. Sea hares are known to use these parapodia to swim with by flapping them like a bird. You can see its gill in your photo. It is the white layered crescent below the almost black tissue situated in the center of the cavity. Have a look at the Sea Hares Fact Sheet  for links to more information on these animals
The color pattern of green and purple mottling is characteristic of Aplysia californica.
Best wishes,
Dave Behrens
Behrens, D.W., 2007 (Apr 4). Comment on Sea of Cortez Mystery Slug by Jennifer Beatty.
[Message in] Sea Slug Forum.
Australian Museum, Sydney. Available from http://www.seaslugforum.net/find/19781
---
Factsheet