May 23, 2007
From: Richard Swann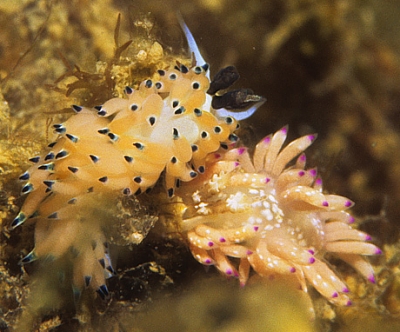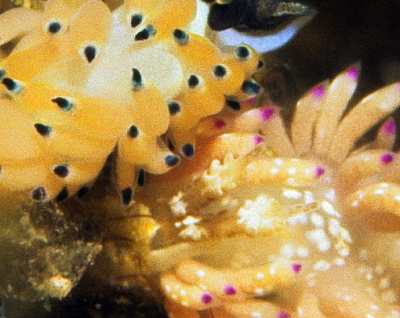 Concerning message #13700:
Hi Bill
I was reading Koh's message and think I have Favorinus tsuruganus with either F. japonicus or maybe F. mirabilis also. These guys are so small it is really tough to get good shots.
I found it strange that they were, when I first found them, in the mating position and would have said they were in the act. If they are different species do you have any knowledge of this being possible? I did consider that they could be feeding and not mating at all but no eggs seem to be present.
Locality: Sulug island, Kota Kinabalu, 23meters, Sabah, Borneo, South China Sea, 16 April 2007, Reef slope, outreef. Length: Around 5mm. Photographer: Richard Swann.
I also found the pink tips unusual. if they are not mating then they must be very good friends !
As always i look forward to hearing your thoughts.
Best regards
Richard
www.downbelow.co.uk
richard@downbelow.co.uk
Swann, R., 2007 (May 23) Colour forms of
Favorinus tsuruganus
?.
[Message in] Sea Slug Forum.
Australian Museum, Sydney. Available from http://www.seaslugforum.net/find/19909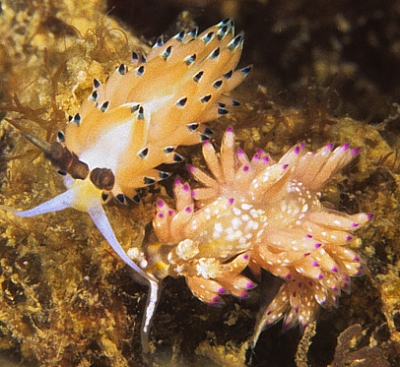 Dear Richard,
Certainly the yellow and black animal is Favorinus tsuruganus but the one with the purplish tips is rather unusual. It is quite similar in colour to an animal I have identified as Favorinus pacificus, but that species has smooth rhinophores. Favorinus mirabilis is also similar in colour but always has a dark spot near the ceratal tip and its rhinophores have many more leaves.
Typical Favorinus tsuruganus has three quite unusual cup-shaped processes on each rhinophore, which is a very distinguishing feature. I have looked carefully at the rhinophores of the purple-tipped animal  and although they are not black, there do seem to be three very similarly shaped cup-shaped structures there as well. I know of no other species of Favorinus with similar structures, so your observation that they appear to be mating would suggest that this is a colour form of F. tsuruganus which has never been reported before. Which makes it a very interesting find.

One problem - and there are often problems unfortunately - is the identity of Favorinus tsuruganus. All authors accept it is the yellow animal with black-tipped cerata, and black rhinophores with these 3 cup-shaped structures. This is certainly the animal illustrated and described by Baba & Abe in 1975. However in that paper they note that the animal on which the species is based (Baba & Abe, 1964) didn't have these 3 cup-shaped structures on the rhinophores. It just had two rounded swellings. Either they made a mistake in their first description, or perhaps they had a damaged animal which had not regrown the rhinophores very well. Perhaps I shouldn't have mentioned it, but it does mean the identity of F. tsuruganus is still a little unstable.
Baba, K. & Abe, T. (1964) Record of Favorinus tsuruganus n. sp., from Tsuruga Bay, Japan (Nudibranchia - Eolidoidea). Publications of the Seto Marine Biological Laboratory, 12(2): 163-164.

Baba, K. & Abe, T. (1975) Comments on further specimens of Favorinus tsuruganus Baba & Abe from Echizen-cho near Tsuruga Bay, Japan (Nudibranchia: Eolidoidea: Favorinidae). Publications of the Seto Marine Biological Laboratory, 22(1-4): 117-120.
Best wishes,
Bill Rudman
Rudman, W.B., 2007 (May 23). Comment on Colour forms of
Favorinus tsuruganus
? by Richard Swann.
[Message in] Sea Slug Forum.
Australian Museum, Sydney. Available from http://www.seaslugforum.net/find/19909
---
Factsheet