August 9, 2007
From: Gary Cobb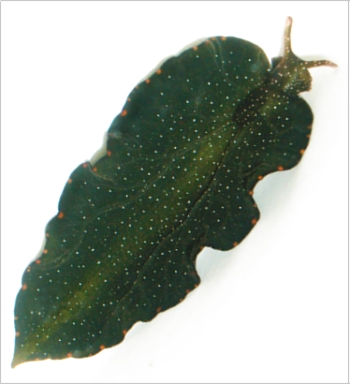 Hi Bill and everyone!
Well things are hotting up here! A species of Elysia was found by a water testing employee of the new Tugun road bypass being built in southern Queensland and northern New South Wales. There is a drainage creek that flows into the Cobaki Broadwater and about 100 m in from the broadwater these 'leafy' Elysia thrive. There is plenty of algae there to eat. They have been seen in an area of about 20 meters of creek. It is amazing how this species looks like a leaf on the bottom!
Locality: Coolangata area, 50-100 mm, New South Wales, Australia, Pacific Ocean, 28 July 2007, Intertidal muddy creek. Length: 35-43 mm. Photographer: Gary Cobb.
Richard Willan has identified them as Elysia bangtawaensis Swennen, 1997 and says...
"I just got Swennen's paper today as a photocopy and the text leaves little doubt that's what it is. This is what it says about the colour: "The colour of living Elysia bangtawaensis appears uniformly dark green with a series of 12-40 prominent, reddish orange spots along the outer margins of the parapodia. Less prominent opaque white spots and still smaller, white and reddish orange specks of varying size are visible on the dorsal and ventral sides of the body, including parapodia, foot, pericardium and rhinophores."

As far as I know, Elysia bangtawaensis has only been found previously in Thailand "near the village of Bang Tawa, about 11 km west of Pattani" (this is the type locality). I like what else Swennen has to say about this locality "The species is named in honour of the people of Bang Tawa village, where the first specimens were discovered in the mangrove forest. [The villagers have protected their forest against the shrimp culture companies that are converting large parts of the natural productive and complex coastal ecosystems into 'bio-industrial deserts'. ]"

Of course the specimens from Tugun are not a new record for Australia, or for southern Queensland, because Helene Laws collected some and sent them to Bob Burn 30 years ago (these specimens are now lost unfortunately). Even though (maybe because) they are named, this population of Elysia bangtawaensis has special conservation significance in that it represents the only known population of this species anywhere in Australia and the habitat looks very vulnerable to disturbance."
Thanks and happy branching,
Gary Cobb
gary@nudibranch.com.au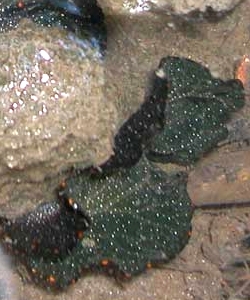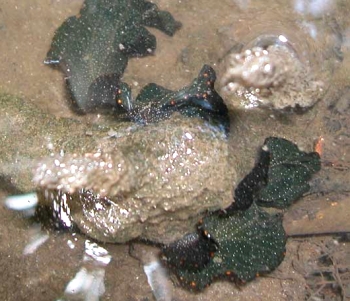 Cobb, G.C., 2007 (Aug 9)
Elysia bangtawaensis
in nthn New South Wales.
[Message in] Sea Slug Forum.
Australian Museum, Sydney. Available from http://www.seaslugforum.net/find/20377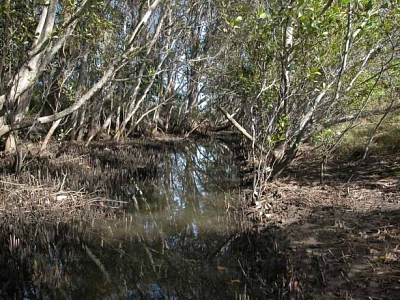 Dear Gary,
Thanks for this interesting find. There seem to be a number of these large leaf-like species which inhabit the upper reaches of mangrove forests. I was sent photos of a species about 10 years ago which didn't fit either of Swennen's species Elysia bangtawaensis or E. siamensis but was asked not to post them on the Forum until the finder decided what they were going to do. Unfortunately I have heard nothing from the 'finder' since.
I wonder if Richard's mention of earlier finds of E. bangtawaensis in your area are the finds referred to by Bob Burn (1998) as E. leucolegnote which is another large mangrove inhabitant. Burn notes "it can be found in the mangroves along the tidal creeks of Moreton Bay, southern Queensland". He describes it as "a big dark green species with a white margin" which certainly fits E. leucolegnote, but I dont know if his colour description is from Jensen's description of E. leucolegnote, or from his notes on Moreton Bay specimens. It seems to me that needs to be sorted out before you man the barricades to stop the road through the mangroves.
Burn, R.F. 1998. Order Sacoglossa. Pp 961-974. In: Beesley, P.L., Ross, G.J.B. & Wells, A. (eds). Mollusca: The Southern Synthesis. Fauna of Australia, Vol 5. CSIRO Publishing: Melbourne. Part B 565-1234.

Swennen, C. (1997) Two new gastropods, Elysia bangtawaensis and E. siamensis from southern Thailand (Opisthobranchia, Sacoglossa, Elysiidae). Bulletin Zoölogisch Museum, Universiteit van Amsterdam 16 (6): 34-38.
Best wishes,
Bill Rudman
Rudman, W.B., 2007 (Aug 9). Comment on
Elysia bangtawaensis
in nthn New South Wales by Gary Cobb.
[Message in] Sea Slug Forum.
Australian Museum, Sydney. Available from http://www.seaslugforum.net/find/20377
---
Factsheet