November 16, 2009
From: Mandi Woods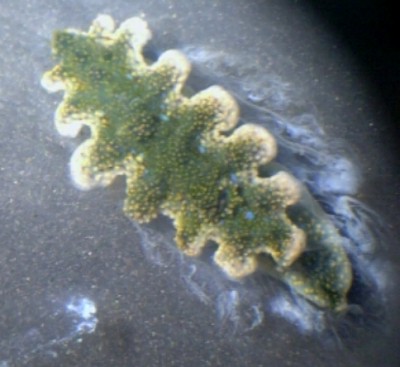 Hello
I am not sure if you can help at all, I ordered 2 Elysia crispata and my delivery arrived only to find they were not the Elysia crispata they said they were. After a lot of research I have found out that they are Ceratosoma sinuatum.

Can anyone help me in what they will eat, as although they are not what I ordered I would hate for them to starve. Any urgent advice would be greatly appreciated.
I have them in isolation at the moment, but this morning noticed this when one of the was touched by something, and is seems to have a funny smell to the tank now. Can you give me any advice as to what I should do with them. The smell gave me a headache immediately so I opened the window. I am a little bothered as they are in an isolation tanks not far from my Berghia Breeding system.

Its Saturday now so I can't return them to the person that sent them to me today. I have attached a pic (not brilliant) but best I could do.
Very keen to know if this secretion is a problem.

Kindest Regards
Mandi
k9weg@aol.com
Woods AC, 2009 (Nov 16)
Ceratosoma sinuatum
feeding?.
[Message in] Sea Slug Forum.
Australian Museum, Sydney. Available from http://www.seaslugforum.net/find/22789
Dear Mandi,
I'm afraid I can't help with the food problem other than to say it will feed on sponges, and most probably a sponge of the family Dysideidae. That is the family of sponges species of Ceratosoma usually feed on, but I know of no information on C. sinuatum in particular.
Your photo of your animal streaming white secretions is very interesting. Many nudibranchs use 'nasty' chemicals to deter predators and I have discussed this in quite a few parts of the Forum. Have a look at the Chemical Ecology Fact Sheet for an introduction, and messages #723, #8859 for two more examples of chromodorids with streaming white secretions. In most species of Ceratosoma most of the defensive chemicals are stored in a large accumulation of glands in the dorsal horn. C. sinuatum is one of a few species of Ceratosoma without a dorsal horn, and where the defensive chemicals are stored has been a puzzle. From your photo it seems that, like some species of Glossodoris, they are kept in small sacs scattered over the skin, and so when disturbed the animal exudes this white secretion all over the body.
Your description of a strange smell giving you a headache is also interesting. I have not heard of anyone experiencing that before with a chromodorid, but species of Phyllidia, Phyllidiella and their relatives kept in aquaria can do that [see my comment in message #433]. The smell is almost certainly caused my one of the chemicals exuded from the slug. I know from experience that the secretions from phyllidiids can kill everything in an aquarium, but I can't say for certain with this Ceratosoma.
Best wishes,
Bill Rudman
Rudman, W.B., 2009 (Nov 16). Comment on
Ceratosoma sinuatum
feeding? by Mandi Woods.
[Message in] Sea Slug Forum.
Australian Museum, Sydney. Available from http://www.seaslugforum.net/find/22789
---
Factsheet