April 22, 2010
From: Neil J. Castro Guillén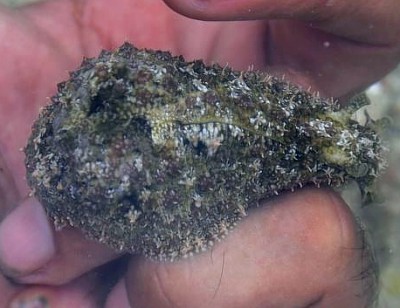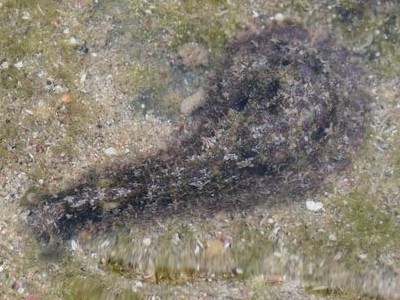 Dear Bill
We are writing in order to verifying the identity of this specimen. We think it is Dolabrifera dolabrifera (Opisthobranchia: Anaspidea: Aplysiidae) based on the resemblance to some animals discused on this forum. The sample we collected is somewhat flattened dorsoventrally and the body seems somewhat compact, with the body being narrower at the anterior end than the posterior one.

Although it is smooth when touched, many little pointed papillae can be seen all over the body of the live animal. When it died it was not possible to distinguish the papillae. Regarding the length of this sample it is a little bit longer than you reported on the Fact sheet of this species, reaching to aproximately 57 mm. Is there another record of a similar size?.
The rest of the body seems to be of the usual plan you have described.
We found this opistobranch on shallow waters at rocky shore bording the northern west side of La Ciénaga Lagoon, Aragua State, Venezuela, Caribbean Sea.
On the other hand, we have some questions regarding the taxonomy on this animal as there are some mismatches with the ITIS site information provided there:
http://www.itis.gov/servlet/SingleRpt/SingleRpt?search_topic=TSN&search_value=78049.
For instance on the family status and the authority of the species. Can you give us some clues?
Locality: Beach, 0,10, Aragua, Venezuela, Caribbean Sea, 17 April 2010, Rocky shore. Length: 57mm. Photographer: Neil Castro-Guillén.

Many thanks in advance
Kind regards
Neil Castro
Jaime Bolaños
neilbiologo@gmail.com
Castro-Guillén, N.J., Bolaños-Jiménez, J, 2010 (Apr 22)
Dolabrifera dolabrifera
from Aragua State, Venezuela?.
[Message in] Sea Slug Forum.
Australian Museum, Sydney. Available from http://www.seaslugforum.net/find/23539
Dear Neil,
Firstly, although I try and keep the Fact Sheets up to date you should always treat the messages attached to each Fact Sheet as 'updates' to the Fact Sheet. There is a record of an 8 cm long animal in one message. Length in this species is quite difficult to be precise about because as your phtos show it can greatly extend its 'head and neck' as it crawls along. I will however change the Fact Sheet.
I was surprised to check the ITIS site and see Rang, 1828 listed as the author of the name and to the use of the family name Notarchidae and the common name warty sea cat.
Firstly the family name. Most authors consider the sea hares to belong to a single family Aplysiidae, and Klussmann-Kolb's (2004) recent work supports that opinion. As to the proposed 'common name' see my comments on the making up of so-called common names. As the common name for the aplysiidae is sea hares it seems a bit strange to call on a sea cat as well.

The most important question though is the author of the name Dolabrifera dolabrifera. I have always followed current usage which for at least 60 years as attributed the name to Cuvier, 1817 [for example see Ortea, J. A. & E. Martínez, 1990; Bebbington, A.,1974 and their extensive references]. However I checked Gary Rosenberg's Malacolog site for western Atlantic marine Mollusca [http://www.malacolog.org/index.html], because Gary is a meticulous examiner of nomenclatural correctness and I find that he considers Dolabrifera dolabrifera (Cuvier (1817, 2:398) is what we call a 'nude name' or nomen nudum. That means that although Cuvier used the name he gave no indication of any characters which could be used to identify the species. On checking Cuvier this is exactly the case, the name is mentioned in a footnote to the genus Dolabella but all he says is that it was found at the Isle de France. So it would seem the correct author of the name should be Rang, 1828. Rosenberg also notes that the largest reported size is 108 mm.
Although it does not affect the identity of the species correcting the authorship of the name is quite an important nomenclatural change. Thanks for drawing my attention to it.

Bebbington, A. (1974). "Aplysiid species from East Africa with notes on the Indian Ocean Aplysiomorpha (Gastropoda: Opisthobranchia). Zoological Journal of the Linnean Society 54: 63-99.
Cuvier, G. L. (1817). La Règne Animal, distribué d'après son organisation. Vol 2. Paris, Déterville.
Klussmann-Kolb, A. (2004). "Phylogeny of the Aplysiidae (Gastropoda, Opisthobranchia) with new aspects of the evolution of the seahares." Zoologica Scripta 33(5): 439-462.
Ortea, J. A. and E. Martínez (1990). "Moluscos Opistobranquios de Cabo Verde: Anaspidea (Aplysiomorpha)." Publicacoes Ocasionais da Sociedade Portuguesa de Malacologia 15: 17-42.
Rang, S. (1828). Histoire naturelle des Aplysiens, première famille de l'ordre des Tectibranches: Histoire naturelle Génerale et particuliere des Mollusques. D. Férussac and D. Férussac. Paris, Firmin Didot: 84pp. Pls. 1-24.
Best wishes,
Bill Rudman
Rudman, W.B., 2010 (Apr 22). Comment on
Dolabrifera dolabrifera
from Aragua State, Venezuela? by Neil J. Castro Guillén.
[Message in] Sea Slug Forum.
Australian Museum, Sydney. Available from http://www.seaslugforum.net/find/23539
---
Factsheet