June 23, 2000
From: Jeff Goddard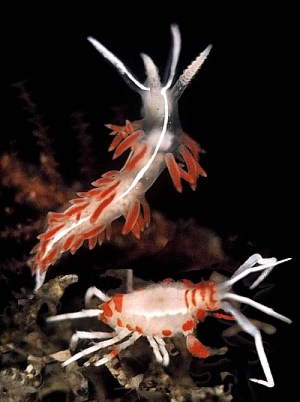 Hi Bill,
Here is a photo I took in the lab in 1984 of a 10 mm long Flabellina trilineata and its amphipod crustacean mimic, Podocerus cristatus (Thompson, 1879), from Cape Arago, Oregon, USA. I have also enclosed a brief account of the biology and range of the aeolid.
Flabellina trilineata is a seasonally abundant aeolid ranging from Baja California, Mexico to Alaska (Behrens, 1991). It feeds on hydroid polyps, especially those of Tubularia spp. and Eudendrium californicum (McDonald & Nybakken, 1978; Goddard, 1984). Flabellina trilineata always have white pigment on their rhinophores and cephalic tentacles, but one color form has distally on these appendages an additional, overlying red orange pigment. Both color forms consistently have three white stripes running the length of the body.
The color form of the amphipod mimic shown here has only been collected from the southern Oregon coast, often under the same overhangs and cobbles as its aeolid model (Goddard, 1984b, unpublished observations). Most amphipods are edible to fish, and this mimicry is likely an example of Batesian mimicry, in which an edible organism gains protection from its predators by mimicking an inedible or repugnant organism.
A purple and orange colored form of Podocerus cristatus occurs in central California (Gosliner & Behrens, 1990), where the stunningly purple and orange colored aeolid, Flabellina iodinea (Cooper, 1862) is often one of the most abundant and conspicuous nudibranchs.
References:
• Behrens, D.W. 1991. Pacific coast nudibranchs. Sea Challengers: Monterey, California.
• Goddard, J.H.R. 1984. The opisthobranchs of Cape Arago, Oregon, with notes on their biology and a summary of benthic opisthobranchs known from Oregon. The Veliger, 27(2): 143-163.
• Goddard, J. 1984b. Presumptive Batesian mimicry of an aeolid nudibranch by an amphipod crustacean. Shells and Sea Life [previously and subsequently the Opisthobranch Newsletter] 16: 220-222.
• Gosliner, T. M. & D. W. Behrens. 1990. Special resemblance, aposematic coloration and mimicry in opisthobranch gastropods. Pp. 127-138 in, M. Wicksten (ed.), Adaptive coloration in invertebrates. Texas A&M University Sea Grant Program: College Station, Texas, USA.
• McDonald, G.R. & J.W. Nybakken. 1978. Additional notes on the food of some California nudibranchs with a summary of known food habits of California species. The Veliger, 21(1): 110-119.
Best wishes,
Jeff Goddard
goddard@lifesci.ucsb.edu
Goddard, J.H.R., 2000 (Jun 23)
Flabellina trilineata
and its amphipod crustacean mimic.
[Message in] Sea Slug Forum.
Australian Museum, Sydney. Available from http://www.seaslugforum.net/find/2608
Dear Jeff,
Thanks for the photos. It's quite a coincidence to have both your message and Bruce Wight's at the same time. It certainly is an amazingly coloured amphipod.
I would be interested in your comments on Bruce Wight's photo of animals without white lines. Unless there is an amazing Flabellina mimic it looks like this species does not always have white lines.
Best wishes,
Bill Rudman.
Rudman, W.B., 2000 (Jun 23). Comment on
Flabellina trilineata
and its amphipod crustacean mimic by Jeff Goddard.
[Message in] Sea Slug Forum.
Australian Museum, Sydney. Available from http://www.seaslugforum.net/find/2608
---
Factsheet