May 14, 2001
From: Melanie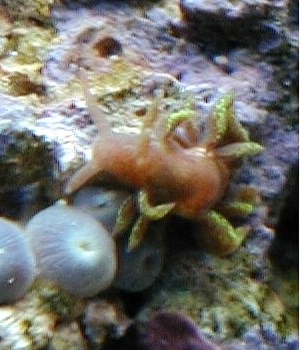 I found about 5 of these critters in my reef tank. They look like they may be babies and
have a light pink body with 10 to 12 iridescent spikes on top. Do you know if they are reef safe?
I have not bought any live rock for several months - but most of my live rock is from Fiji. I have several smaller ones also that dont have any color yet. I think they are breeding in my tank. But I don't know where they are coming from. I don't see any
large ones just tiny ones
Melanie
zildjian@northcoast.com
Melanie, 2001 (May 14) Mystery nudibranch.
[Message in] Sea Slug Forum.
Australian Museum, Sydney. Available from http://www.seaslugforum.net/find/4309
Dear Melanie,
It certainly looks like this animal is breeding in your aquarium. It is an aeolid nudibranch. Aeolids feed on cnidarians (sea anemones, hydroids, corals, soft-corals) but each species feeds on only one or a few species of cnidarian. This animal must have arrived in your aquarium as a very small juvenile, probably on its prey, and been quietly nibbling away at something in your aquarium. If you are now seeing smaller uncoloured specimens I suspect that your aeolid is now into a second generation. The two most likely prey items that they are feeding on would be a soft-coral or a hard coral. If you have either, have a look for egg masses. They will either be a sausage-shaped, jelly-like sac containing lots of small white eggs, or else a spirally coiled ribbon. Have a look at the page on Coral-feeding nudibranchs for an idea of what you are looking for. It is possible that the eggs will be under the colony.
What should you do with them? My biased opinion would be to leave them and see what happens. Alternatively perhaps you can try and find what they are eating by looking for egg ribbons and more animals. Uusually they will be living on their food. If you do find some sign of them, have a look at what damage they are doing, and if it is not enormous perhaps you should just leave them be. The first step though is to see if you can discover what they are doing yourself. I suspect they are a coral feeder but they don't look like any species I am familiar with.
Best wishes,
Bill Rudman.
Rudman, W.B., 2001 (May 14). Comment on Mystery nudibranch by Melanie .
[Message in] Sea Slug Forum.
Australian Museum, Sydney. Available from http://www.seaslugforum.net/find/4309
---
Factsheet