May 13, 2001
From: Alexandra Ellwood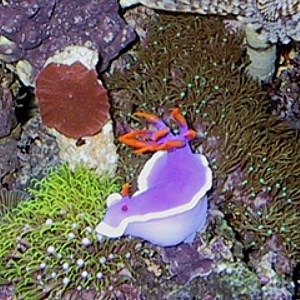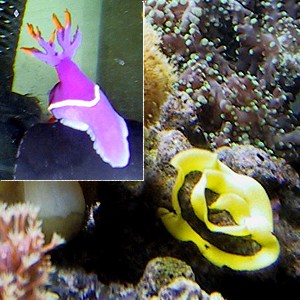 Hi,
I'm actually a reef tank owner, not a diver. A week ago, I bought two "purple nudibranchs with orange antennas" from Aquacon . I was trying to order Chelidonura varians (which they sell as "Radiant Blue & Black Nudibranch") and got these by mistake.
Aquacon claims that these nudibranchs eat green algae. Since I haven't seen them eating any of my corals, they either eat algae or something I don't have. Both slugs are 2-3" long depending on how stretched out they are. What type of sea slugs are they, and what do they really eat?
Today, I looked into my reef tank and saw a spiral of bright yellow ribbon in the tank where one of the nudibranchs had been hanging out yesterday. Is this an egg ribbon? I can try to get better pictures of the yellow ribbon tonight if it hasn't been eaten by my hermit crabs (they were checking it out when I left). The above pictures are just my 10 second attempt with the digital camera this morning in case it disappeared.
You can check out my coral reef tank here:
http://web.mit.edu/lxs/www/corals.htm.
Alexandra
lxs@mit.edu
Ellwood, A., 2001 (May 13) Purple sea slug .
[Message in] Sea Slug Forum.
Australian Museum, Sydney. Available from http://www.seaslugforum.net/find/4316
Dear Alexandra,
I checked out Aquacon's website and as you say they have an illustrated advertisement for:
REEF SAFE PURPLE NUDIBRANCHS W/ YELLOW ANTENNA'S !
Add bright color to your tank and take care of algae at the same time! If you have nasty green algae on your rocks and/or glass these clean up guys will move along and help you with your tank in a hurry. (2 - 3") $15.00 ea. / 3 for $40.00 GREAT FOR BEGINNER'S
This is of course quite incorrect. Your purple slug is what I am calling Hypselodoris bullocki. There are now three pages of messages concerning this species on the Forum, many of them from aquarium keepers wanting to know how to feed them. The short answer is that anyone who tells you they eat green algae either doesn't know what they are talking about or is trying to trick you. In either case I think you should complain. As you will see in earlier messages Hypselodoris bullocki is a carnivore, feeding on sponges. Unfortunately we do not know which species of sponge it eats, but I would suspect that like related species it will only feed on one or two partcular species. Your supplier obviously dowsn't know what species they feed on so he won't be able to supply it for you. The other major problem is that even if you knew which sponge to feed it, keeping sponges alive in aquaria is difficult. And keeping sponges alive, while they are being eaten is even more difficult.
Concerning the egg ribbon. Yes it will be your slugs. I'm afraid egg-laying is not a sign of well-being, in fact it is often a sign of stress.
Sorry I can't give you better news,
Bill Rudman
Rudman, W.B., 2001 (May 13). Comment on Purple sea slug by Alexandra Ellwood.
[Message in] Sea Slug Forum.
Australian Museum, Sydney. Available from http://www.seaslugforum.net/find/4316
---
Factsheet