July 13, 2001
From: Richard Willan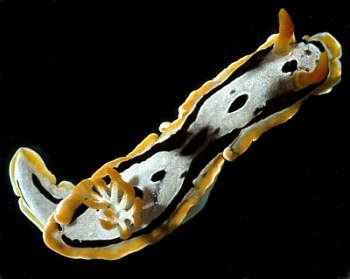 Dear Bill,
I am currently preparing a scientific article on the marine molluscs of the emergent reefs of the Sahul Shelf between northern Western Australia and Timor in Indonesia. One of the chromodorids I collected at Ashmore Reef, one of three
emergent reefs on that shelf, is giving me a lot of trouble coming up with a name to use in my article. I was confident to call it C. westraliensis in 1996 when I collected it because it had the punctate pattern of white specks on the mantle and mid-dorsal transverse dark "saddle" that are typical of C. westraliensis. Knowing that C. westraliensis is highly variable in coloration and that it extends all along the Westwern Australia coast right up to the Kimberley, I did not regard its occurrence on Ashmore as highly unusual.
However the subsequent naming of two new species in the group of Chromodoris species with punctate mantles the 'Chromodoris annae species group' as I would call them) has really puzzled me for a name because it seems this one could be C. michaeli as easily as it could be C. westraliensis. I don't see any immediate answer from the postings by yourself, Bernard Picton, and others on the Forum, though I do see a lot of colour variants of this species complex turning up from the Philippines. My animal from Ashmore (which was old or had escaped from a predator because of its extensively lacerated mantle margin) has a very narrow white marginal band, followed by a broad uninterrupted gold band, followed by a narrow interrupted black band encircling the pale blue punctate central region. The central region has a longitudinal row of black spots with the largest in the centre of the transverse "saddle". The rhinophores and gills are golden.
Thanks for your thoughts on this animal.
Richard
richard.willan@nt.gov.au
Willan, R.C., 2001 (Jul 13)
Chromodoris
from Ashmore Reef.
[Message in] Sea Slug Forum.
Australian Museum, Sydney. Available from http://www.seaslugforum.net/find/4808
Dear Richard,
Your photo is almost identical to the photo of C. michaeli in the original description. I have posted an enlarged view of the gill region to show the punctate colouration of the mantle. One difference in your animal is the heavy white pigmentation along the inner (upper) edge of the gills.
To your general question about this C. annae colour group. I can only agree that there is something going on here which we certainly need to investigate further. I have long wondered whether C. westraliensis is a regional form of C. annae, the main difference being that C. annae has a white band between the orange border and the inner black bands and C. westralienis does not. However as I show on C. westraliensis page, even that distinction does not seem to hold. As I have discussed in recent messages I think we still need to clarify whether C. dianae is one or more species, where C. michaeli fits in, and as you say there relationship to C. westraliensis and C. annae. I have not found any obvious anatomical differences between any of these 'species', which I guess is not surprising if they are closely related. All I can suggest is that we need to build up more information on the sponges they feed on, their egg masses, development types etc. This is obviously not an overnight answer, but it can give some pretty convincing clues.
This does not answer your immediate question. I think I would call it C. michaeli and add a commentary somewhere noting the possible relationship between this group of species. If they are colour forms of one species it is clearly not a simple geographic cline because Clay Bryce has sent a photo of a pair of 'classic' C. westraliensis from the Kimberley region of north Western Australia.
Best wishes,
Bill Rudman
Rudman, W.B., 2001 (Jul 13). Comment on
Chromodoris
from Ashmore Reef by Richard Willan.
[Message in] Sea Slug Forum.
Australian Museum, Sydney. Available from http://www.seaslugforum.net/find/4808
---
Factsheet