November 9, 2002
From: Marina Poddubetskaia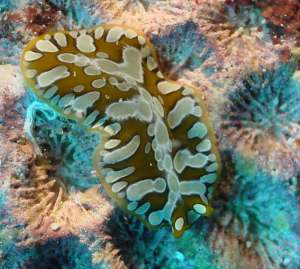 Dear Bill,
Unfortunately, I don't think the bluish patches are a sponge. They are just the badly enlightened parts of the relief. In fact, usually, I'm using an external low powered spotlight instead of my camera's strobe which makes my photos overexposed.
Have a look at the joined photo with the flatworm Pseudoceros scintillatus on a dead coral : it illustrates very well what happens.
Best wishes,
Marina.
nembro@nembro.info
Dear Marina,
I'm not having much luck with potential sponges! My yellow sponge turns out to be an alga and the blue one an exposure problem.
Cheers,
Bill Rudman
---
Factsheet