April 2, 2003
From: Colin Redfern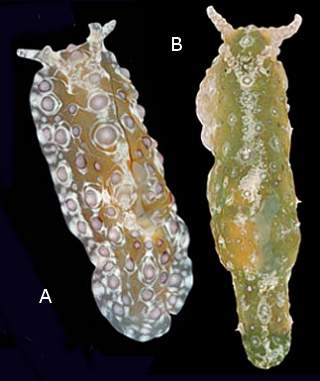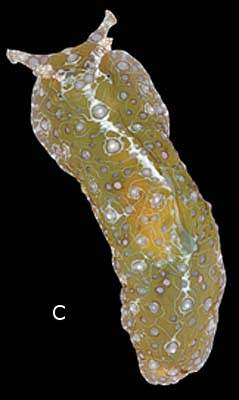 Dear Bill,
I noticed recently that your Factsheet for Petalifera ramosa doesn't include the Atlantic and Caribbean in its range of distribution.
Attached are photos of three specimens from Abaco, Bahamas, all of which were found amongst Thalassia that had been dredged from about 2.5m. A is an immature 8mm specimen from south of Pelican Cay, July 9, 1991. B is 24mm, from the lee side of Whale Cay on July 15, 1992, and C, 25mm, was collected by Rodger Bunnell near Don't Rock on August 22, 2002.
While the characteristic tubercles are very evident on the juvenile animal, they tend to be less conspicuous on adults from this area. All our records are from Thalassia beds, and the animals can swim by means of convulsive flexions when disturbed.
The species has also been recorded from the Florida Keys (Marcus & Marcus, 1962), the Caribbean coast of Colombia (Ev. Marcus, 1976), Jamaica (Thompson, 1977), the Canary Islands (Ortea & Martínez, 1991) and Cuba (Martínez & Ortea, 1991-1992).
I realize that this leaves unaddressed the question of whether all of these records do in fact refer to the same species described by Baba from Japan.
References:
• Marcus, Ev. & Er. Marcus. 1962. Opisthobranchs from Florida and the Virgin Islands. Bulletin of Marine Science of the Gulf and Caribbean, 12(3): 450-488.
• Marcus, Ev. 1976. Opisthobranchia von Santa Marta, Colombia. Studies on Neotropical Fauna and Environment, 11: 119-150.
• Thompson, T. E. 1977. Jamaican Opisthobranch Molluscs I. Journal of Molluscan Studies, 43: 93-140.
• Ortea, J. & E. Martínez. 1991. El orden Anaspidea (Mollusca: Opisthobranchia) en las Islas Canarias. Revista de la Academia Canaria de Ciencias, 3(4): 87-107.
• Martínez, E. & J. Ortea. 1992. Primeros datos sobre el orden Anaspidea (Mollusca: Opisthobranchia) en la Isla de Cuba. Revista de Biología de la Universidad de Oviedo 9-10: 95-111.
• Redfern, C. 2001. Bahamian Seashells: a Thousand Species from Abaco, Bahamas.
Best wishes,
Colin
bahamianseashells@att.net
Thanks Colin,
Your photos certainly look like the Indo-West Pacific species, and Eveline Marcus (1972) considered the anatomical differences to be minor. One obvious difference is that the Caribbean animals seem to lack the conspicuous branched papillae which arise from the tubercles. Are they just contracted in your photos? Marcus's illustration is of a Japanese animal so that doesn't help much. The record from from the Canary Ids (Ortea & Martinez, 1991) also needs examination as the illustration doesn't indicate the prominent tubercles or the papillae which give it its name ramosa.
Best wishes,
Bill Rudman
Rudman, W.B., 2003 (Apr 2). Comment on
Petalifera ramosa
from the Bahamas by Colin Redfern.
[Message in] Sea Slug Forum.
Australian Museum, Sydney. Available from http://www.seaslugforum.net/find/9544
---
Factsheet