June 24, 1999
From: Yoshi Hirano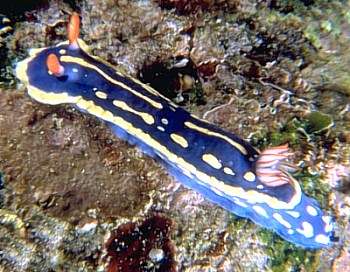 Thank you for presenting my series of photos of Flabellina amabilis in the Forum, especially soon after your long travel. They look more beautiful than I expected. Please note that my e-mail address has changed from @earth.s.chiba to @earth2.s.chiba.
Hypselodoris festiva in the attached photo was collected from Kominato, Boso Peninsula, Japan, where I live. We have quite big populations of the species here. I would like to precisely determine what and how many species of sponges are eaten by them, but I am afraid it is not easy because of lack of sponge taxonomists in Japan now.
I think I should seriously learn how to send you photos through internet in order to contribute more for the forum. I am looking forward to see summaries of presentations of the workshop someday if there is chance you get them.
Best wishes,
Yoshi
hiranoyj@earth2.s.chiba-u.ac.jp
Dear Yoshi,
Thanks for the photos of Flabellina and Hypselodoris festiva. I am very happy to publish your photos as they are of value to us all. It is interesting to compare the Hypselodoris with the other 'blue' species from the Indo-West Pacific, such as Hypselodoris infucata.
I am sure we can work out why your photos have been getting 'scrambled' in the internet. Abstracts of all the contributions are being put on the Menfi Workshop website in the next month. Hopefully some of the participants will also send me a summary with photographs, for the Forum.
Best wishes,
Bill Rudman.
---
Factsheet