April 26, 2003
From: Simon Voorwinde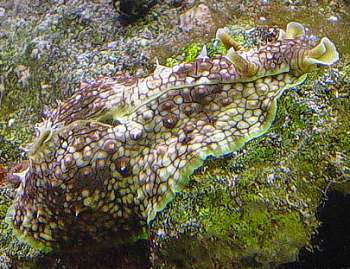 This is a sea hare that I caught in a tidal pool at Swansea, New South Wales, Australia, late December 2002.
The rock pool was dominated by macroalgae such as Ulva sp. and various brown macroalgae. The rock pool was strewn with boulders with scattered patches of sandy bottom. At the bottom of the tide the pools are no more than 30cm deep. At high tide the region is a very high flow zone covered by more than a metre of water.
It was collected to become part of my algae clean-up crew in my marine aquarium and so far it has proven itself to be hard working on a range of filamentous green algae, cyanobacteria, and diatoms. It seems to change colour according to the type of algae it is eating the most of. At the moment it is a dark reddish colour as diatoms and cyanobacteria seem to be making up a large part of its diet.
I assume it is an Aplysia sp. but I have not found anything here that really matches it and I am very interested in positively IDing it. Shortly after it was added to the aquarium it laid hundreds of rows of pinkish eggs over an internal powerhead pump. As there is only one individual in the tank I assume the eggs would not be fertile, however, over the next few days I hope to find one or two more to add to the tank so should this happen again, is there any chance the eggs could hatch and survive in an aquarium? I have read that in some sea slugs there is a commensal relationship between algae and the animal, or they may contain photosynthetic cells in their bodies. Is this where the individual in this photograph gets its green colouration from? It is in a 340L tank (3x2x2ft) with a 250w 10,000K metal halide light over it and it seems to spend a lot of time high up in the tank to increase its exposure to the light.
If you should find a use for this photograph you are more than welcome to use it. It is taken in the aquarium on liverock grazing on green filamentous algae.
Regards,
Simon
svavevav@idx.com.au
Dear Simon,
Your animal is a Sea Hare, but not an Aplysia. It is Dolabrifera brazieri, a species found only in eastern Australia. I have suggested before that it would make good little glass cleaner in an aquarium, so I am glad to see its living up to expectations. I am very interested to hear your suggestion that it appears to change colour depending on the colour of the algae it is eating. I have had my suspicions about it changing colour because it is always very well matched to the colour of its surroundings. It is certainly something worth following up.
Concerning 'solar powered' sea slugs. I don't know of any Sea Hare which does this. If they are matching the colour of the algae, then I guess they are doing it through incorporating algal pigments in their skin, rather than incorporating plant plastids.
Thnaks for your message. I previously had this species and the tropical Dolabrifera dolabrifera together on one page. It was a job I was leaving until I had a moment to spare. Your message has forced me to split them into two pages, and as I thought it took a lot longer than a moment!
Best wishes,
Bill Rudman
Rudman, W.B., 2003 (Apr 26). Comment on
Dolabrifera brazieri
from Swansea, eastern Australia by Simon Voorwinde.
[Message in] Sea Slug Forum.
Australian Museum, Sydney. Available from http://www.seaslugforum.net/find/9717
---
Factsheet