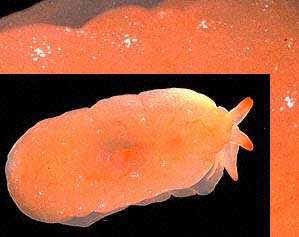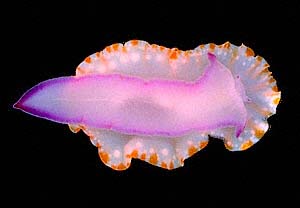 Defensive glands

PHOTO
TOP: Berthellina citrina, showing the white mantle glands in its skin. (magnified glands in background).
LOWER: Mexichromis macropus, view of the underside showing the round opaque white mantle glands around the mantle edge.
Photos: Bill Rudman.
RELATED TOPIC
Mimicry - Phyllidiella, flatworms, Chromodoris
As I have discussed elsewhere on the Forum, one of the main means of defence in sea slugs is to have distasteful, sometimes toxic, chemicals stored in the body. In many cases small microscopic glands occur all over the skin and exude secretions, when the animal is disturbed. There are more elaborate developmenst in some groups of animals in which the secretions are stored in larger specialised glands or sacs.
See:
• Chemical ecology
• Chemical ecology of the nudibranch Glossodoris pallida.
• References: Chemical defence in Phyllidiidae.
• References: Acid Glands and Acid secretions.
• Skin secretion in Pl. forskalii
• Acid secretion in Pl. forskalii
• Use of algal compounds for defence in Elysiella pusilla
• Streaming milky secretions in Glossodoris cincta.
Authorship details
Rudman, W.B., 2004 (July 27) Defensive glands.
[In] Sea Slug Forum.
Australian Museum, Sydney. Available from http://www.seaslugforum.net/factsheet/mucus