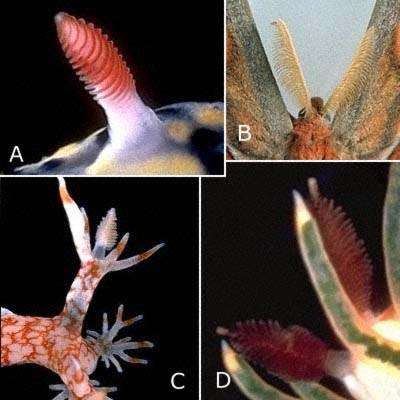 Rhinophore in nudibranchs

PHOTO
Different shaped rhinophores.
A. DORIDINA
Hypselodoris infucta
B. INSECTA
Moth antennae
C. DENDRONOTINA
Bornella stellifer
D. AEOLIDINA
Aeolidia helicochorda
E. AEOLIDINA
Spurilla australis
F. ARMININA
Dematobranchus sp.
G. AEOLIDINA
Cratena sp.
H. DENDRONOTINA
Marianina rosea
I. DORIDINA
Ceratosoma trilobata
PHOTOS: Bill Rudman.
The word RHINOPHORE is made from two classical Greek words rhino = nose, and phore = carrier, and is a reference to the function of the rhinophores as an organ of "smell". We smell scents and odours with our nose, which has special receptors to sense the chemical molecules in the air. In nudibranchs, and other marine animals, the same sort of chemicals are dissolved in the sea water. In many Sea Slugs this is how they find their food. Scent receptors work better when there is a lot of surface area to test for the chemicals. Many of the rhinophore shapes, illustrated here, show the different ways a simple rod-like rhinophore (G) can be modified to provide a much greater surface area by developing horizontal flaps or lamellae (A,C,D,I), or papillae (E,H), or vertical folds (F). Compare these rhinophores with the feathery antennae of a large moth (B) which needs to detect odours so that it can find the flowers it feeds on and a partner for breeding.
Nudibranchs have a pair of rhinophores at the front end of their bodies. Because of their "worm-like" shape, rhinophores are in constant danger of being nibbled by fish. To protect them from such damage, most are able to withdraw into a pocket beneath the skin. Often there is a raised collar or sheath around each pocket which can be clamped shut when the slug is disturbed.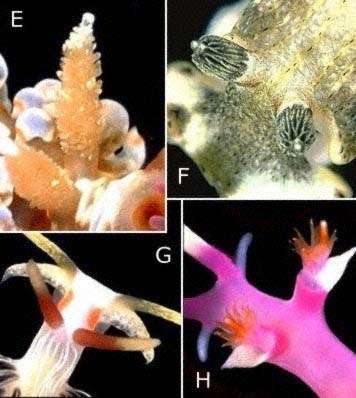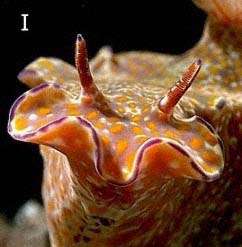 Authorship details
Rudman, W.B., 1999 (March 25) Rhinophore in nudibranchs.
[In] Sea Slug Forum.
Australian Museum, Sydney. Available from http://www.seaslugforum.net/factsheet/rhinonud