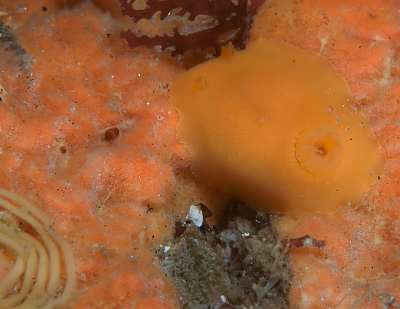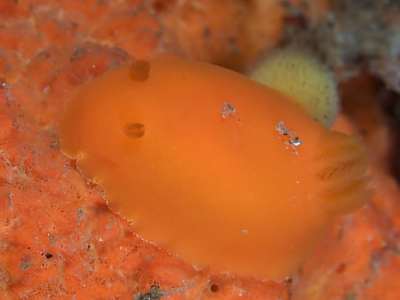 Rostanga pulchra
MacFarland, 1905
Order: NUDIBRANCHIA
Suborder: DORIDINA
Superfamily: EUDORIDOIDEA
Family: Dorididae

DISTRIBUTION
West Coast of North America. Records exist from Alaska to Gulf of California, Mexico, and also Chile and Argentina in South America. It is possible that more than one species is included in these records, as most species of Rostanga look very similar externally.
PHOTO
North Monastery Beach, Carmel, California, USA. Depth: 15 meters. Length: 20-30 mm. 16 November 2005. Boulder Slope. Photographer: Mike Jimenez
This well-known species from the west coast of both North and South America is another red species with vertically arranged rhinophore lamellae. It differs from all described species with this rhinophore type in having a few large inner denticles on the innermost radular teeth and a few long terminal denticles on the outer teeth.
MacFarland (1966) lists records of R. pulchra on a variety of red siliceous sponges but, as Cook (1962) argues, these do not indicate whether the nudibranch is actually feeding on a particular sponge. Cook clearly shows that R. pulchra is chemically attracted to and feeds on Ophlitaspongia pennata Labbe and this sponge is usually noted as the common food sponge of Rostanga pulchra. The literature on feeding in R. pulchra well illustrates the problems of using unverifiable sponge identifications in interpreting feeding ecology. Bakus & Abbott (1980: 26-27), in describing the sponges of California note under the description of the red poecilosclerid Axocielita originalis (De Laubenfels, 1930) that:
"Five other intertidal sponges in California are practically identical with this one in gross appearance and difficult to distinguish in the field: Microciona microjoanna, Ophlitaspongia pennata, Isociona lithophoenix, Plocamia karykina and Plocamilla illgi".
Axocielita originalis and the first four species in the list have all been reported as food for R. pulchra. Although it may be that R. pulchra feeds on a wide variety of red sponges, only Ophlitaspongia pennata has been confirmed as a chosen food (Cook, 1962; Chia & Koss, 1978). See also Brian Penney's message on feeding. The developmental biology of this species has been exhaustively studied (Chia & Koss, 1978, 1982; Chia, Koss & Bickell, 1981). The bright red eggs are laid in a multispiralled ribbon which differs from the other species described here in being almost cylindrical in shape (Hurst, 1967; Beeman & Williams, 1980).
Reference:
• Rudman, W.B. & Avern, G.J. (1989) The genus Rostanga Bergh, 1879 (Nudibranchia: Dorididae) in the Indo-West Pacific. Zoological Journal of the Linnean Society 96: 281-338.
Authorship details
Rudman, W.B., 2002 (February 4)
Rostanga pulchra
MacFarland, 1905.
[In] Sea Slug Forum.
Australian Museum, Sydney. Available from http://www.seaslugforum.net/factsheet/rostpulc