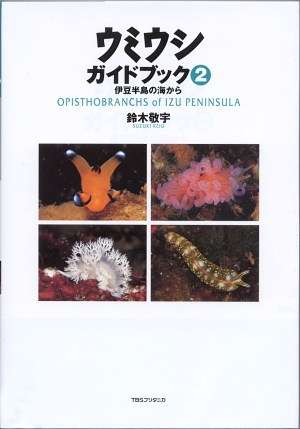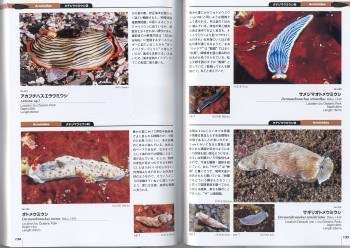 Opisthobranchs of Izu Peninsula
Keiu Suzuki
ISBN4-484-00400-3
Paperback. 210 x 148mm. 178pp.
Published by TBS-BRITTANICA Co., Ltd., Tokyo, Japan.
April 2000.
This book records and illustrates over 250 species of the opisthobranch fauna of Izu Peninsula which is situated in the middle of Japan, on the Pacific Coast between Sagami Bay and Suruga Bay. In many ways the composition of the fauna is similar to that of the Sydney region of New South Wales, not so much in having the same species (which it doesn't) but in having a mix of a widespread tropical Pacific element and an endemic subtropical/temperate Japanese fauna.
This is definitely Dr K. Baba territory and I find it exciting to see for the first time photographs of some Japanese species which I have only known from printed descriptions. No matter how diligently prepared and accurate such descriptions are, a colour photograph certainly completes the story.
The majority of the species in the book are nudibranchs but there is also a good coverage of the other major orders (Sacoglossa, Cephalaspidea, Anaspidea. Notaspidea). The book is arranged with about 4 species to a double page which allows for photos of more than adequate size. Unfortunately to non-Japanese speakers most of the text is in Japanese other than the name, size and basic locality information.
I have not checked all the identifications, but those that I have, seem correct and up to date. There is an up to date reference list and I am glad to see a list of major websites.
This book complements Atsushi Ono's book on Kerama Island rather than competes with it, as the fauna of Izu Peninsula has a much larger proportion of the endemic Japanese fauna than was recorded by Atsushi Ono from Kerama Island. For anyone interested in the beauty and diversity of opisthobranchs I would recommend this book.
Bill Rudman
Authorship details
Rudman, W.B., 2000 (April 25)
Opisthobranchs of Izu Peninsula
. Keiu Suzuki.
[In] Sea Slug Forum.
Australian Museum, Sydney. Available from http://www.seaslugforum.net/find/brsuzuki
---
Related messages
September 16, 2002
From: Nishina Masayoshi
Dear Bill,
I do not know how many people are interested in this book now but here is my review of Opisthobranchs of Izu Peninsula. This is an opportunity to present some update information. Incidentally, there is update information for A. Ono's book at: http://online.divers.ne.jp/ono/namechanges.html
I hope this kind of review is not against to your philosophy for the Forum. There may be more species which need update or I may have made a misidentification. I have omitted a few doubtful species such as E. japonica in the book this time.
REVIEW
It's already became very difficult to get copies of the books Opisthobranchia of Sagami Bay" and the Supplement by Dr.K. Baba. Since then, K Suzuki's book is the only book which covers opisthobranchs from the main Islands of Japan. This book also
covers opisthobranchs in Taiwan, Hong Kong and Singapore too. There are color photos of 250 species of the Opisthobranchs fauna in this inexpensive book. I think everybody still can get this book at US$32.95 through the online book store "SeaChallengers".
This book was released in 2000. I have tried to find if there is any updated information through the WWW but nothing there. So I have prepared this update myself. If anyone finds any mistakes or further updates please let me know.

Photo No. and updated name.
14 Nakamigawaia sp.
26 Stylocheilus striatus (Quoy & Gaimard, 1832)
29 Stylocheilus striatus
30 Bursatella leachii leachii
50 Elysia amakusana Baba,1955 (now I think E. abei)
56 Elysia lobata (Gould, 1852)
60 Goniodoris joubini Risbec, 1928
81 Roboastra gracilis
116 Mexichromis cf. multituberculata
117 Mexichromis mariei
120 Noumea subnivalis Baba, 1937
127 C. trilobatum (J. E. Gray, 1827) ?
135 Ceratosoma sinuata
140 Discodoris lilacina
154 Halgerda willeyi Eliot, 1904
155 Halgerda carlsoni Rudman, 1978
161 Dendrodoris fumata
165 Dendrodoris fumata
174 Phyllidiella zeylanica (Kelaart, 1859) or Phyllidiella sp.
195 Bornella stellifer (Adams & Reeve, 1848)
215 cf.Flabellina rubropurpurata Gosliner & Willan, 1991- No.255 in A.Ono's book
216 Flabellina sp. 5 No.258 in A.Ono's book
233 Cratena affinis (Baba, 1949)
244 Protaeolidiella atra
247 Spurilla chromosoma Cockerell & Eliot, 1905 Changed to Spurilla
Best Regards,
Nishina Masayoshi
nishina@wips.co.jp
Masayoshi, N., 2002 (Sep 16) Book Review .
[Message in] Sea Slug Forum.
Australian Museum, Sydney. Available from http://www.seaslugforum.net/find/7876
Dear Nishina,
Thanks for this. I have no problem with comments on books. My main aim with book reviews is to make people aware of what books are available and who I think would benefit from them. I welcome 'readers comments'. I must make it clear though that I have not checked the name changes suggested here by Nishina.
Best wishes,
Bill Rudman
---
May 1, 2000
From: David Behrens
Dear Bill,
If you have enquiries about Opisthobranchs of Izu Peninsula by Keiu Suzuki, we are pleased to tell you that Sea Challengers will be handling the book.  It is our item #162S.  It will retail at $32.95 US (same as Ono's book). Foreign Airmail shipping to most countries is $9.00US, surface book rate is only about $4.00. Within the US, 3-day mail is $4.00.
David & Diana Behrens
Sea Challengers Natural History Books
david@seachallengers.com
Behrens, D., 2000 (May 1) Re:
Opisthobranchs of Izu Peninsula
.
[Message in] Sea Slug Forum.
Australian Museum, Sydney. Available from http://www.seaslugforum.net/find/2340
---
April 27, 2000
From: Bill Rudman
Here is a review of another beautifully illustrated book on the Japanese opisthobranch fauna. The fauna it deals with is from the Pacific coast of central Japan, so quite a few of the species are Japanese endemics not covered by Atsushi Ono in his book on Kerama Island.
I do not at present have details on price or where it can be bought.
Bill Rudman.
Rudman, W.B., 2000 (Apr 27) Book Review -
Opisthobranchs of Izu Peninsula
.
[Message in] Sea Slug Forum.
Australian Museum, Sydney. Available from http://www.seaslugforum.net/find/2322
---