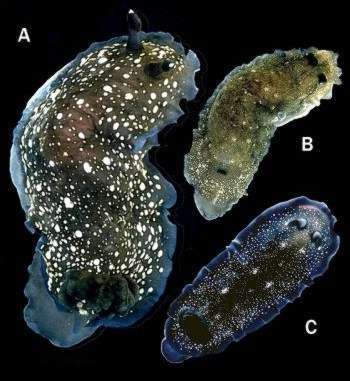 Dendrodoris nigra
(Stimpson, 1855)
Order: NUDIBRANCHIA
Suborder: DORIDINA
Family: Dendrodorididae

DISTRIBUTION
Tropical to warm temperate Indo-west Pacific
PHOTO
UPPER RIGHT:
A. 70mm long, North Coast, New South Wales, Australia, March 1982, (C132971).
B. 50-70mm long, Long Reef, Sydney, New South Wales (C114835).
C. 40mm long, Noumea, New Caledonia, October 1988, (C156601) PHOTOS: Bill Rudman.
SEE MORE PHOTOS BELOW
RELATED TOPIC
An extremely common intertidal dorid often found quite high on the shore. Although, as its name implies, it is often black, there are many colour forms of this species, often associated with growth, many specimens being pink or orange when juvenile but black when adult. Black adults often have clusters of white spots on the mantle, and sometimes there can be a marginal or submarginal red or pink mantle border. Another species, D. fumata, has similar colour variation and the two species are often confused. Risbec's named many species from New Caledonia which are merely colour forms of these two species, and one species, D. communis Risbec, 1928, would appear to be a combination of both species. Pease (1871) also gave different names (D. debilis, D. sordida, D. rubrilineata), to colour forms of this species from Tahiti, and Bergh's species, D. affinis, again from Tahiti, is also a synonym. Most external differences between D. nigra and D. fumata are comparative, for example, D. nigra is more elongate when crawling than D. fumata. The position and nature of the gills would appear to be characteristic. In D. nigra the gills are relatively numerous and form a compact circle around the anus at the extreme posterior end of the dorsum. In D. fumata there are only 5 or 6 gills which are relatively large and openly branched. Unlike D. nigra they are situated in the dorsal midline some distance from the extreme posterior end of the body. One internal character clearly separates the two species. As Edmunds noted (1971), Gohar & Soliman's excellent account (1967a) of the anatomy of D. fumata, and his own investigation of D. nigra showed that in D. nigra there is an accessory gland at the genital opening which is absent in D. fumata. It is not possible to identify all earlier names given to these species for both species cover most colour forms.
When white spots are present they are of two different kinds. Some spots are simply pigment spots on the skin while others are small white glands producing a milky acidic secretion. Usually the glandular spots are aggregated into clusters as in Fig B.
PHOTO:
D. 36mm long, Koumac, New Caledonia, October 1993, (C200523).
E. 15mm long juvenile, Noumea, New Caledonia, October 1988, (C156675)
F.10mm long juvenile, Noumea, New Caledonia, October 1988, (C156595).
G. 10mm long juvenile, North Coast, New South Wales, March 1982, (C132943).
H. 9mm long juvenile, Two Fold Bay, New South Wales, March 1986, (C149571).
I. 36mm long, Koumac, New Caledonia, October 1993, (C200525). PHOTOS: BILL RUDMAN.
Reference:
• Stimpson, W. (1855). Descriptions of some of the new marine Invertebrata from the Japanese and Chinese Seas. Proceedings of the Academy of Natural Sciences of Philadelphia, 7(10): 375-384.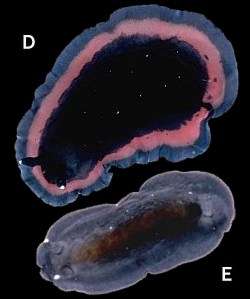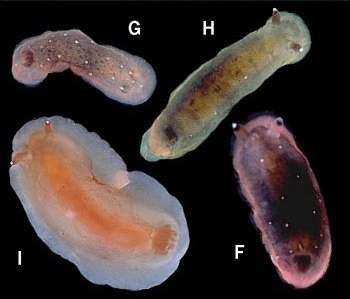 Authorship details
Rudman, W.B., 1999 (August 16)
Dendrodoris nigra
(Stimpson, 1855).
[In] Sea Slug Forum.
Australian Museum, Sydney. Available from http://www.seaslugforum.net/factsheet/dendnigr