August 12, 2005
From: Colin Ogden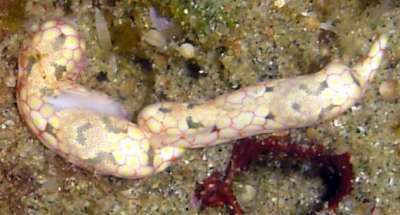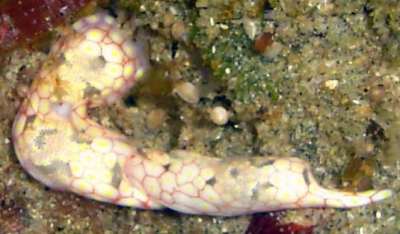 Hi Bill,
following my last message on the mating behaviour of these creatures [#14456 ], I came across these two and managed to spend a bit more time with them. Unfortunately I had to leave before the end (compulsory deco)
The first pic shows the approach of the one Odontoglaja guamensis, and the second pic shows the other allowing the approacher to actually totally penetrate its body. It opened its mantle to allow this to occur.  Is this the way these creatures normally mate. I would of expected them to be the same as the nudibranchs.

Locality: Sodwana Bay, South Africa, Indian ocean coast. Depth: 22 metres. Length: 15 mm. August 4 2005. Coral reef. Photographer: Colin Ogden
Your comment would be appreciated.
Regards
Colin
scubaco@iafrica.com
Ogden C M, 2005 (Aug 12)
Odontoglaja guamensis
- unusual mating behaviour [2].
[Message in] Sea Slug Forum.
Australian Museum, Sydney. Available from http://www.seaslugforum.net/find/14502
Dear Colin,
The cephalaspideans [bubble shells] are more like the sea hares in general anatomical features - especially where 'openings' are concerned than nudibranchs. The penis is in a pouch on the right side of the head, quite separate from the female reproductive openings which are in the mantle cavity on the right side of the body, beneath the reduced shell near the rear of the body. As in the sea hares, the aglajids, and most other cephalaspideans, have a sperm groove which runs from the genital openings at the rear forward to the penis. This differs from the nudibranchs in which all the genital openings, including the penis sac, are found together on the right side of the body in the anterior quarter. This means that cephalaspideans and sea hares tend to mate head to tail rather than head to head. This can lead to them forming mating chains where three or more animals mate simultaneously, the ones in the middle being simultaneously male and female. There are photos of sea hares doing this on the mating chains Fact Sheet, and there is a nice photo of the aglajid, Chelidonura livida doing the same in Michael Mrutzek's earlier message [#8036 ]
The animal acting as 'male' is not actually penetrating the body of its partner. It is lying on top of the hidden shell and mantle cavity of the 'female' so that its penis, which is on the right side of the head, can enter the genital opening of its partner which is directly below where it is lying. In the case of Chelidonura livida the mantle cavity is even more reduced so the 'male' can access the genital openings of the 'female' from directly behind.
These groups represent early stages in the evolution of shelled snails to slugs. Have look at the Detorsion - how snails became sea slugs page for some background information.
Best wishes,
Bill Rudman
Rudman, W.B., 2005 (Aug 12). Comment on
Odontoglaja guamensis
- unusual mating behaviour [2] by Colin Ogden.
[Message in] Sea Slug Forum.
Australian Museum, Sydney. Available from http://www.seaslugforum.net/find/14502
---
Factsheet