March 3, 2006
From: Cynthia Trowbridge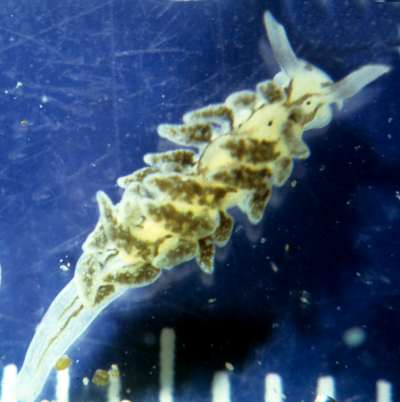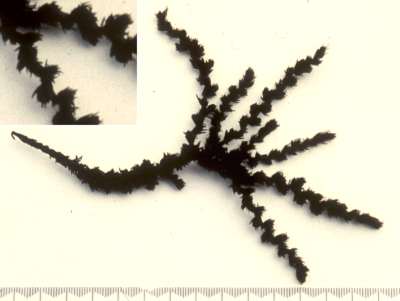 Concerning message #14724:
Dear Bill, Kathe, and Alexi,
Alexi and I had a private e-mail discussion about Stiliger akkeshiensis vs. Hermaea vancouverensis last year. As part of work on Japanese sacoglossans, I was trying to find and verify records of S. akkeshiensis Baba, 1935, and he mentioned that his sacoglossan species was found on the red alga Neorhodomela larix. On Oregon shores, we have Hermaea vancouverensis on Neorhodomela (see photo), eating the attached, chain-forming diatoms. When the discussion proceeded onto the Forum [messages #14724, #14728], I was working overseas and not in e-mail contact. Since that time, Alexi and I have agreed his species is Hermaea vancouverensis and that his records in the NW Pacific represent an intriguing and significant range extension for this Pacific species.
Excerpt of letter from Cynthia to Alexi, 22 Feb 2005:
"as a graduate student, I worked for my professor on Neorhodomela larix, its chemical ecology, palatability to molluscan and crustacean grazers. We have a small sacoglossan - Hermaea vancouverensis -- that feeds on the diatom (Isthmia nervosa) that is very frequent on Neorhodomela at the end of summer. I have attached a photo of that species to be sure we are not talking about that species. It has distinctive markings on head and back. This species is the most abundant and yet the least studied of our local sacoglossans."
I am glad to see that Kathe [#14724] thought the species was Hermaea vancouverensis because the radular teeth, external appearance, and ecology are identical to O'Donoghue's 1924 description. Please see my attached photo from Oregon from the mid-1980s. The diatom in the photo is the food Isthmia. All the NE Pacific details about this species are summarized in my 2002 review paper.
PHOTOS: Middle: red alga Neorhodomela larix. Lower: chain forming diatom Isthmia nervosa which lives attached to Neorhodomela - note mm scale in upper part of photo. Oregon, USA, NE Pacific Ocean, mid-1980s. Photographer: Cynthia Trowbridge.
We still do not know (1) whether Stiliger akkeshiensis and Hermaea vancouverensis are synonyms or (2) whether there is a "real" S. akkeshiensis in Hokkaido. The Hiranos and I plan on visiting the type locality in the next year so we hope to resolve this issue. Thank you for letting me clarify the situation.
O'Donoghue, C.H. 1924. Notes on the nudibranchiate Mollusca from the Vancouver Island region. IV. Additional species and records. Transactions of the Royal Canadian Institute 15: 1-33.

Trowbridge, C.D. 2002. Northeastern Pacific sacoglossan opisthobranchs: natural history review, bibliography, and prospectus. The Veliger 45:1-24.
Best wishes,
Cynthia
trowbric@onid.orst.edu
Trowbridge, C.D., 2006 (Mar 3) Identity of
Stiliger akkeshiensis
from Kuril Islands.
[Message in] Sea Slug Forum.
Australian Museum, Sydney. Available from http://www.seaslugforum.net/find/15995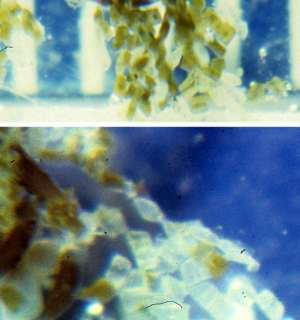 Dear Cynthia,
Thanks very much for clarifying this animal. If the Oregon and Russian animals were both on the red alga Neorhodomela larix, does that mean the chain forming diatom (Isthmia nervosa) on which they actually feed always asociated with the red algae? I had assumed the red coloured digestive gand in Alexi's animals were from red pigment in the red algae. If they in fact feed on green diatoms do you have any idea where the red pigment comes from? If its not from red algae it makes me wonder whether some of the other 'red' sacoglossans are also not red algae feeders to.
Best wishes,
Bill Rudman
Rudman, W.B., 2006 (Mar 3). Comment on Identity of
Stiliger akkeshiensis
from Kuril Islands by Cynthia Trowbridge.
[Message in] Sea Slug Forum.
Australian Museum, Sydney. Available from http://www.seaslugforum.net/find/15995
---
Factsheet