March 7, 2008
From: David Abecasis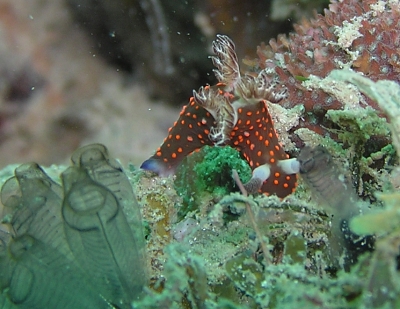 Hello Bill,
I found this small nudibranch on one of my last dives. I am having a hard time to ID it. Do you have any idea?
Locality: Quirimbas archipelago, 8 meters, Mozambique, Indian Ocean, 29 October 2007, Coral reef. Length: ~15mm. Photographer: David Abecasis.
Best regards,
David Abecasis
davidbecas@netcabo.pt
Abecasis, D., 2008 (Mar 7) A red-spotted
Nembrotha
and
N. yonowae
.
[Message in] Sea Slug Forum.
Australian Museum, Sydney. Available from http://www.seaslugforum.net/find/21144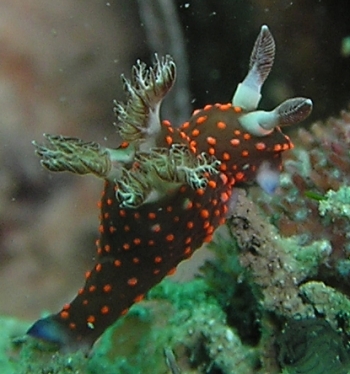 Dear David,
My best answer to your question about whether I can identify this animal is 'yes and no'. If you look at the Nembrotha spp page you will see a group of reddish spotted animals I haven't been able to put a name on, and many of them [see #19534], but not all of them, seem to be the same species as yours. I have kept them separate from the ones I have identified as Nembrotha guttata. But I am not even sure about that species and have some separated as Nembrotha cf. guttata. Some animals have a distinct orange cap to the rhinophore club and an orange margin around the rhinophore sheath while others don't. Some, like yours, have white rhinophore sheaths and white edging to the gills etc etc.
I am afraid I don't think the recent Nembrotha paper (Pola et al, 2008) has resolved this problem and as they say in their discussion "the internal anatomy of the species complex nigerrima-cristata-yonowae is very similar" so we are apparently not likely to find a simple answer in the basic anatomy.

To complicate matters there is also a nomenclatural problem - that is a question about what names we should use as well as how many species there are and how we should identify them. Pola et al, propose we replace Nembrotha guttata Yonow, 1993 with N. yonowae Goethel & Debelius, 1992 considering them both to be the same. When Yonow described her species she deliberately stated that the description of N. yonowae was so poor, and lacked a type specimen, and so was unable to be distinguished from other red-spotted species. Even if at that time the International Code did not require there to be a type specimen deposited, if there is no available specimen how do you check to see just which red-spotted species they were describing? As you can see here, there are probably more than one species involved. So on those grounds she described her species as distinct. In Pola et al there are three colour photos identified as N. yonowae, one of which (Fig 14A) looks like what I am calling N. guttata, but the other two (Fig 14B,C) look more like your animal. They also have another photo (Fig 14 D) of a red-spotted animal which they identify as Nembrotha sp. and which looks like others on my miscellaneous red-spotted page. I mention this because it suggests the author's are not clear themselves on just what constitutes what they call Nembrotha yonowae. If that is the case it seems premature to synonymise that name and N. guttata as they might both turn out to be valid species.
At the moment I am trying to get a copy of the Goethel & Debelius description of N. yonowae. It was published in a non-scientific journal and I have until now been unable to find a copy. So basically I can't identify your animal at present. As Pola et. al say "further morphological and molecular studies need to be done to fully resolve these issues"
Pola, M., Cervera, J.L. and Gosliner, T.M. 2008. Revision of the Indo-Pacific genus Nembrotha (Nudibranchia: Dorididae: Polyceridae), with description of two new species. Scientia Marina 72(1): 145-183.
Best wishes,
Bill Rudman
Rudman, W.B., 2008 (Mar 7). Comment on A red-spotted
Nembrotha
and
N. yonowae
by David Abecasis.
[Message in] Sea Slug Forum.
Australian Museum, Sydney. Available from http://www.seaslugforum.net/find/21144
---
Factsheet