November 9, 2009
From: Ian Smith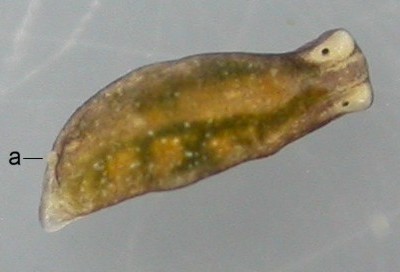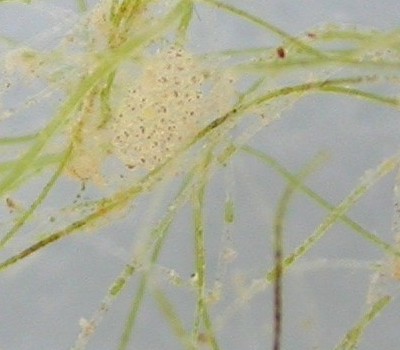 Concerning message #22752:
Dear Bill, Kathe and Skip
Many thanks for your helpful responses.
Bill asked if I had viewed the specimens under a binocular microscope. Yes, but I was not sure if I was discerning the anus and renal opening.
I spent much time yesterday watching the brown specimens, and was able to identify the anus when they defecated streams of cloudy grey-white matter. In the pictures attached, it is a pore at the anterior of a pale streak near the posterior of one specimen, and it protrudes as a papilla labelled 'a' on the other picture.
I think the renal opening is the pale pore visible centrally on both pictures, but can not be sure.
In the three weeks since I collected the specimens, they have grown a little, now 3.5 mm, the brown ridges between the eyes have flattened, and over ten spawn masses have been deposited on Vaucheria (picture attached).
I am now convinced that the brown specimens are Limapontia depressa for the following reasons:
1. anus near posterior.
2. found on Vaucheria on mud, out of water at high tide.
3. Dark green branched digestive gland visible.
4. At no time was an elongated metapodium extended.
5. The brown ridges I mistook for crests have flattened and they were not pale.
6. The veligers visible in the spawn have black pigment as mentioned by Tom Thompson for L. depressa.
I hope this is enough to gain your agreement.
Re point 6; T.E.T. did not mention black pigment for the veligers of L. capitata or L. senestra, but "absence of mention" doesn't equate with "mention of absence"; he only shows a bursal streak on the drawing of L. capitata, but I can see it clearly on my brown L. depressa specimens. Kathe, do you know if L. capitata or L. senestra veligers have black pigment?
This leaves the uncontested dark L. capitata specimen of my first posting (now 5mm). It was found in the pool shown. I think it can be accounted for by the strong tidal rapid of the adjacent Swellies which sweeps along items that are deposited 'out of habitat' in the calmer bay. On a previous occasion I found a shoal of a pelagic sp. of goby, usually found in the rapids, stranded in the same pool.
Locality: Church Island, Menai, Anglesey, intertidal, Wales, U.K., Irish Sea, 17 October 2009, intertidal mud flat, full salinity. Length: 3.5 mm. Photographer: Ian F. Smith.
Thanks again for your help.
Best wishes
Ian
ifsmith@bethere.co.uk
Smith, I.F., 2009 (Nov 9) Re:
Limapontia capitata
on
Vaucheria
.
[Message in] Sea Slug Forum.
Australian Museum, Sydney. Available from http://www.seaslugforum.net/find/22763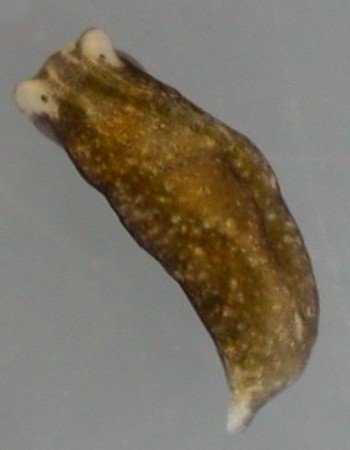 Dear Ian,
I am glad you reached that conclusion - it is what I suspected, but from photos alone I couldn't be sure. Limapontia senestra has very large eggs and direct developing larvae so even without the obvious tentacles, we can cancel it from the discussion. Concerning the renal opening - it is often quite hard to see, not only in sacoglossans, but all opisthobranchs. In the photo with an 'a' I would suspect the renal opening would be in or near the small pale patch in the midline about one third the way along the body from the 'tail'. Certainly the shortened 'tail' and the position of the anus so far back on the body suggests these paler animals are L. depressa.
Best wishes,
Bill Rudman
Rudman, W.B., 2009 (Nov 9). Comment on Re:
Limapontia capitata
on
Vaucheria
by Ian Smith.
[Message in] Sea Slug Forum.
Australian Museum, Sydney. Available from http://www.seaslugforum.net/find/22763
---
Factsheet