September 29, 2000
From: Phanor Montoya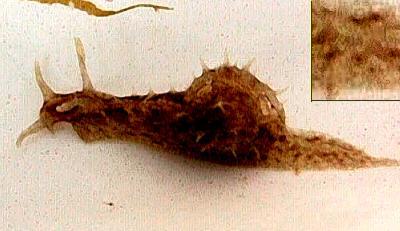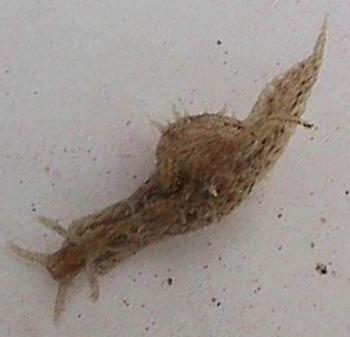 This Sea Hare was found on a soft bottom cover with Halodule sp and Syringodium sp seagrasses. I found a big population of these small animals (1-3cm,) and they were together with big Bursatella leachii plei. I don't thinks this sea hare is a juvenile Bursatella, what do you think?
Thanks,
Phanor
phamont@eudoramail.com
Montoya, P., 2000 (Sep 29) Which sea hare is this one?.
[Message in] Sea Slug Forum.
Australian Museum, Sydney. Available from http://www.seaslugforum.net/find/3087
Dear Phanor,
I guess your animals are from Santa Marta, Colombia?
You are quite right in thinking they are not juvenile Bursatella. They are Stylocheilus striatus which has a circumtropical distribution. It is often found with Bursatella, probably because both feed on a layer whch we use to call blue-green algae but are now considered to be cyanobacteria. Throughout its range Stylocheilus striatus ranges in colour pattern from a blotchy unlined form, as in your upper photo, to a characteristic lined form which is well-illustrated in recent message. Your lower photo is of an inetrmediate colour form with elongate brown marks rather then lines. In the inset in the upper photo you can see the 'eyepots' which are often found in both this species and Bursatella. They can have a blue, black, or even pink centre and an orange or green-blue ring.
There are quite a few records of this animal from the Caribbean and the tropical west Atlantic and I have listed a few of them below. In all cases it has been misidentified as Stylocheilus longicauda.
• Clark, K.B., (1984) New records and synonymies of Bermuda opisthobranchs (Gastropoda). The Nautilus 98(2): 85-97.
• Marcus, Ev. & Hughes, H.P.I., (1974) Opisthobranch mollusks from Barbados. Bull. Mar. Sci., 24(3): 498-532.
• Marcus, Ev & Marcus, Er, (1963) Opisthobranchs from the Lesser Antilles. Studies on the Fauna of Curacao and other Caribbean Islands 19(79): 1-76.
• Marcus, Ev, (1972) On the Anaspidea (Gastropoda: Opisthobranchia) of the warm waters of the western Atlantic. Bull. Mar. Sci., 22(4): 841-874.
• Thompson, T.E., (1977): Jamaican opisthobranch molluscs I. Journal of Molluscan Studies, 43(2): 93-139.
Best wishes,
Bill Rudman.
Rudman, W.B., 2000 (Sep 29). Comment on Which sea hare is this one? by Phanor Montoya.
[Message in] Sea Slug Forum.
Australian Museum, Sydney. Available from http://www.seaslugforum.net/find/3087
---
Factsheet