February 13, 2002
From: Duncan Revell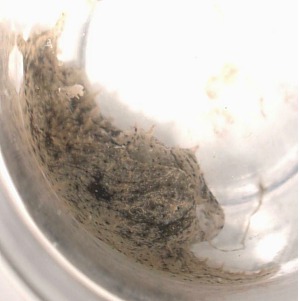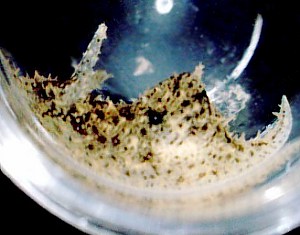 Hello Bill.
I'm a 4th year aquaculture honours student from Stirling University, Scotland, and I'm currently over here at the Bribie Island Research Centre, nr. Brisbane [Queensland, Australia] starting my honours project. My project is on larval rearing of the sea hare Stylocheilus striatus, although I am not 100% sure this is the correct ID of the species. I've collected several sea hares from one of the salt water ponds here. Most are about 3-4cm long, green/brown in colour with small spikes all over its body. There are also dark spots with thin stripes along the body. The eggs are white/yellow and then turn brown/red soon before hatching. The shelled veligers are very small, maybe 30 microns.
I was wondering whether you could identify the species for me through these photos I've attached. I was wondering also how long it takes for the eggs to hatch, whether they breed all year round, whether they can self fertilise themselves, and how long it takes from hatching to settlement of the larvae.
I realise not a great deal is known about sea hares, but from your website you seem to be extremely knowledgable about these animals. I would be extremely grateful if you could answer some of my questions.
Thanks Bill,
Duncan.
duncan_revell@hotmail.com
Revell, D., 2002 (Feb 13)
Stylocheilus striatus
- life history studies.
[Message in] Sea Slug Forum.
Australian Museum, Sydney. Available from http://www.seaslugforum.net/find/6192
Dear Duncan,
I can definitely say that your animals are Stylocheilus striatus and I know of no evidence to show that any opisthobranch, even with their hermaphrodite reproductive system, is able to self-fertilise. There have been studies in Hawaii on Stylocheilus striatus (as S. longicuada) See if you can get hold of copies of the two Switzer-Dunlap references on the Stylocheilus references Page. There is also an aquarium stockist who sells Stylocheilus under the name 'Sea Bunnies'. From his advertising spiel it seems they are not difficult to breed in aquaria.
Paige (1986, 1988) published results of a similar study on the west Atlantic subspecies of Bursatella leachii, which is very similar in shape and feeding biology to Stylocheilus striatus, so that study would be worth reading. There have also been studies on various species of Aplysia, but many of the points you need to know such as development time, breeding cycles etc are likely to differ from species to species, so you are basically on your own.
• Paige, J.A. (1986) The laboratory culture of two Aplysiids Aplysia brasiliana Rang, 1828 and Bursatella leachi plei (Rang, 1828) (Gastropoda: Opisthobranchia) in artificial seawater. The Veliger, 29(1): 64-69.
• Paige, J.A. (1988). Biology, metamorphosis and postlarval development of Bursatella leachii plei Rang (Gastropoda: Opisthobranchia). Bulletin of Marine Science, 42(1): 65-75.
Good luck with your research,
I look forward to hearing of your progress. If by chance you could share some photos of the egg masses and perhaps veligers, they would be most welcome.
Best wishes,
Bill Rudman
Rudman, W.B., 2002 (Feb 13). Comment on
Stylocheilus striatus
- life history studies by Duncan Revell.
[Message in] Sea Slug Forum.
Australian Museum, Sydney. Available from http://www.seaslugforum.net/find/6192
---
Factsheet