March 4, 2002
From: John Chuk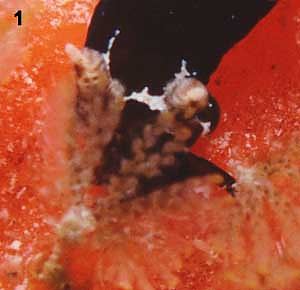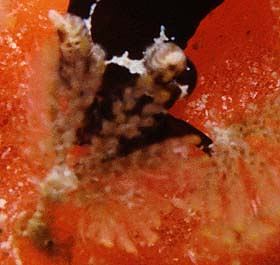 Dear Bill,
Your comments on the specimens of Trapania brunnea that I thought were feeding on a small arborescent bryozoan made me have a close look at the series of slides.
There is something white on the surface of the sponge but I find no evidence to suggest what it may be. The shots were taken using a 1.5:1 extension tube, which should have the magnification and resolution needed to show detail of entoprocts, were they present.
The behaviour I observed on the dive that suggested that the specimens were feeding on the bryozoan is shown in the two images attached. It could be that the specimen merely blundered into the bryozoan, though it did not retreat in a hurry. I suspect that having seen other nudibranchs feeding on this bryozoan, may well have prompted me to conclude that these specimens were also feeding, when they may well have encountered the bryozoans by accident in their progress across the sponge. I suppose the only sure way to determine if an animal is feeding is to remove it and observe if the mouth is everted?
Best wishes,
John.
jchuk@giant.net.au
Chuk, J., 2002 (Mar 4)
Trapania brunnea
from S.E. Australia (2).
[Message in] Sea Slug Forum.
Australian Museum, Sydney. Available from http://www.seaslugforum.net/find/6336
Dear John,
Thanks for following this up. In your closeup photo we can see that the head of the Trapania is under the bryozoan colony. It could be eating the basal trunk of the colony but I doubt it. My money is on the fuzzy white things. By chance I found Trapania brunnea this week in Mallacoota [on the border between New South Wales and Victoria, Australia] on a very similar bright orange red sponge. With your photos in mind I carefully collected the rock the sponge was attached to and took it back to where I was staying and checked it under a microscope. The whole surface of the sponge was covered in entoprocts. I collected samples of a number of other colonies of the sponge at the same time. They had neither Trapania nor entoprocts. It is difficult to use negatives as proof but I think the evidence is building up in favour of entoprocts being the food of Trapania. Hopefully my photos will come out. If so I will post them on the Forum in a few days.
Concerning your question about checking if an animal is feeding by seeing if its mouth is everted. Unfortunately that only works for some species. Most sponge-feeding dorids evert their foregut to some extent when feeding so if you gently lift them up you will almost inevitably see part of the foregut everted if they are feeding. However some families feed by biting off polyps or small bits of their prey. In these animals there is no eversible foregut so it is more difficult to see direct signs of feeding, although there is often damage to the colony they are feeding on.
Best wishes,
Bill Rudman
Rudman, W.B., 2002 (Mar 4). Comment on
Trapania brunnea
from S.E. Australia (2) by John Chuk.
[Message in] Sea Slug Forum.
Australian Museum, Sydney. Available from http://www.seaslugforum.net/find/6336
---
Factsheet