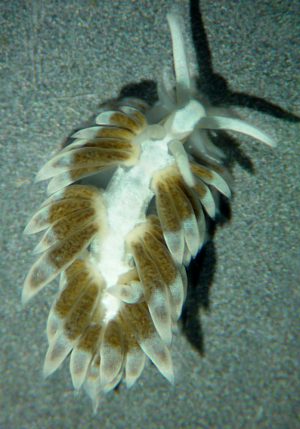 'Berghia verrucicornis' in aquaria

PHOTO
Juvenile, approx 1/2 - 3/4 inch long, Florida Keys, USA. Photo: Steve Kempf.
Note added 20 August 2005: This species has been named Aeolidella stephanieae.
The aeolid nudibranch Berghia verrucicornis has been found to be very useful in aquaria for controlling infestations of the fast growing and reproducing sea anemone Aiptasia. In the USA the aquarium trade have begun breeding up quantities of Berghia for sale to aquarium keepers.
One interesting puzzle is whether the animal being sold as Berghia verrucicornis in the USA is in fact the same as the the Mediterranean species. Even if it is not, it does seem to eat Aiptasia.
This page is a place for messages specifically about the 'trade' in Berghia. I do not have the time to answer all questions about where this animal can be bought. Aquarium suppliers come and go, their websites change address, and sometimes they have Berghia in stock, sometimes they don't. if you are looking for Berghia my best suggestion is to do what I do - go to a good search engine on the web and search.
If you have information on Berghia verrucicornis - photos, biology etc it is very welcome. I would very much like photos of the 'commercial' one so we could see if it really is B. verrucicornis.
Carroll, D. J. & Kempf, S. C. (1990) Laboratory Culture of the Aeolid Nudibranch

Berghia verrucicornis

(Mollusca, Opisthobranchia): Some Aspects of Its Development and Life History 

Biological Bulletin, 179: 243-253

.
Authorship details
Rudman, W.B., 2002 (January 20)
'Berghia verrucicornis'
in aquaria.
[In] Sea Slug Forum.
Australian Museum, Sydney. Available from http://www.seaslugforum.net/factsheet/bergverraq