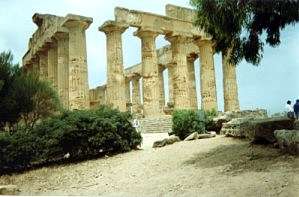 International Opisthobranch Workshop

PHOTO
Greek ruins, near Menfi, June, 1999. PHOTO: Bill Rudman.
It is a pleasure to announce that an International Workshop of "Systematic, Phylogeny and Biology of Opisthobranch Molluscs" will be held in Menfi (Sicily, Italy) from 10th to 14th June 1999.
During the workshop, guest presentations will be done by Terry Gosliner, Guido Cimino, Chris Todd, Kathe Jensen and Bill Rudman.
The Scientific Committee:
Dr. Renato Chemello chemello@unipa.it
Dr. Juan Lucas Cervera lucas.cervera@uca.es.
The Logistic and Administrative Committee:
Ms. Vanna Rotolo, vannarotolo@futuralink.it
Ms. Maria Concetta Giuffrida.
For more information, please go to:
http://www.futuralink.it/vannarotolo OR
http://www.aicon.com/sim/

Juan Lucas Cervera.
Dr. Juan Lucas Cervera Currado
Departamento de Biologia Animal, Vegetal y Ecologia Facultad de Ciencias del Mar
Universidad de Cadiz
Poligono del Rio San Pedro s/n
Apdo. 40
E-11510 Puerto Real (Cadiz)
SPAIN
Tfno:+34-956-470833/470834
Fax:+34-56-470834/470811
E-mail: lucas.cervera@uca.es