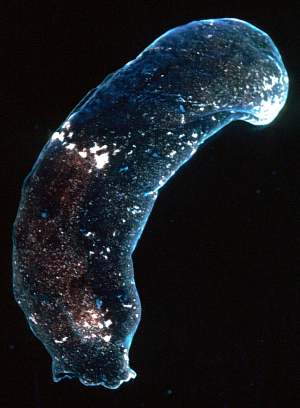 Melanochlamys queritor
(Burn, 1958)
Order: CEPHALASPIDEA
Superfamily: PHILINOIDEA
Family: Aglajidae

DISTRIBUTION
Temperate Australia [New South Wales to Western Australia]
PHOTO
Long Reef, Collaroy, Sydney, NSW, Australia. 21 September 1979. Photo: John Fields.
Melanochlamys queritor has the compact cylindrical shape, typical of the genus. The head shield has a short rounded posterior end only slighly overlapping the posterior shield. The parapodia are also relatively short lying tightly against the body and reaching just slightly onto the dorsal surface of the posterior shield. It ranges in color from almost black to almost white. The dark form is essentially black with patches of white speckling on either side of the head, along the posterior edge of the head shield, and near the posterior end of the posterior shield. There are also a variable number of small translucent clear specks scattered over the body, and a few larger bluish patches. Pale colour forms, which are essentially light brown or cream with darker spots, were previously considered a separate species, M. henri.
Like its New Zealand counterpart, Melanochlamys cylindrica, the dark colour form is often found in algal turf on rock platforms. Pale colour forms are usually found burrowing in soft sediments (Burn (1989). Burn reported (1958) that it feeds on algae, but later (1989) confirmed that it to feeds on polychaete worms.
References:
• Burn, R.F. (1958) A new species of opisthobranch from Victoria (Mollusca, Gastropoda). The Victorian Naturalist, 74: 115-117. [stated date 1957]
• Burn, R.F. (1989) Opisthobranchs (Subclass Opisthobranchia). [In] Marine Invertebrates of Southern Australia, Part 2. [Eds: Shepherd,S.A., Thomas, I.M.] Government Printer (South Australia), Adelaide, 725-788.
• Rudman, W.B. (1972) On Melanochlamys Cheeseman, 1881, a genus of the Aglajidae (Opisthobranchia: Gastropoda). Pacific Science, 26(1): 50-62, 8 figs.
• Rudman,W. B. (1972) Structure and functioning on the gut of the Bullomorpha (Opisthobranchia). Part 4. Aglajidae. Journal of Natural History, 6(5): 547-560, 8 figs.
• Rudman, W.B. (1974) A comparison of Chelidonura, Navanax and Aglaja with other genera of the Aglajidae (Opisthobranchia, Gastropoda). Zoological Journal of the Linnean Society, 54(3): 185-212.
Authorship details
Rudman, W.B., 2003 (May 11)
Melanochlamys queritor
(Burn, 1958).
[In] Sea Slug Forum.
Australian Museum, Sydney. Available from http://www.seaslugforum.net/factsheet/melaquer