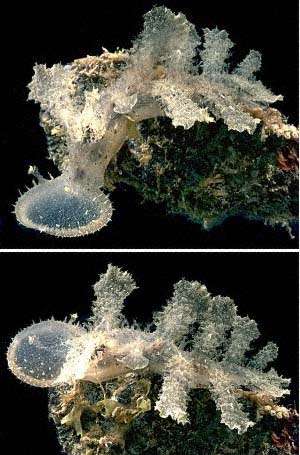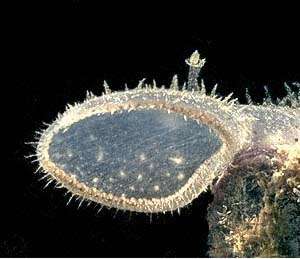 Melibe viridis
Kelaart, 1858
Order: NUDIBRANCHIA
Suborder: DENDRONOTINA
Family: Tethydidae

DISTRIBUTION
Tropical Indo-West Pacific.
PHOTO
Koumac, northern New Caledonia, in grass beds, 80mm long alive. October 1993. UPPER photo showing "net-like" oral veil stretched out feeling for crustacean prey. LOWER photo showing ventral side of oral veil showing rows of sensory papillae around inner edge of veil which can rapidly close when prey is detected.
PHOTOS: Bill Rudman.
There are a number of benthic species of Melibe in the tropical Indo-West Pacific. Melibe viridis can grow to over 120mm in length. Their most unique attribute is their method of feeding. They have lost their radular teeth and have developed the oral veil into a large veil or "fish net" which they use to constantly scan the substrate as they crawl along. When the sensitive papillae on the inner edge of the oral veil touch a small crab or crustacean the edge of the veil is rapidly contracted, trapping the prey, which is then ingested. Some species of Melibe, but not this species, harbour zooxanthellae in their bodies.
The genus Melibe was reviewed by Gosliner, (1987) but the identity of at least two of the larger species, Melibe pilosa Pease, 1860 (from Hawaii) and Melibe fimbriata Alder & Hancock, 1864, (from India) is not resolved. A third species, Meliboea viridis Kelaart, 1858, originally described from Ceylon, has been ignored by all subsequent authors, except Alder & Hancock (1864), who considered it to be most probably, a juvenile of their M. fimbriata.
I use Kelaart's name as I can find no consistent differences to justify the separation of these two species. That is not to say that there are not other species of Melibe in the Indo-West Pacific.
Note added 14 January 2004: This species, or one of this species complex, has migrated through the Suez Canal into the Mediterranean where it is usually identified as Melibe fimbriata. Until the taxonomic problems mentioned above are resolved, records from the Mediterranean have been moved to a separate Melibe fimbriata Page.
Reference:
• Gosliner, T.M. (1987) Review of the nudibranch genus Melibe with description of two new species. The Veliger, 29: 400-414.
Authorship details
Rudman, W.B., 1999 (January 7)
Melibe viridis
Kelaart, 1858.
[In] Sea Slug Forum.
Australian Museum, Sydney. Available from http://www.seaslugforum.net/factsheet/meliviri