September 8, 1999
From: Irina Roginskaya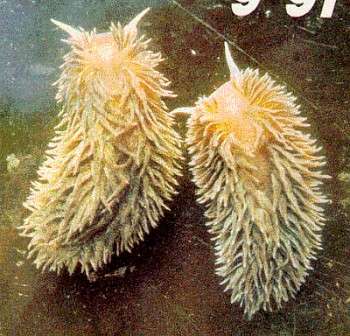 Dear Bill!
Are you interested in Aeolidia papillosa from the White Sea? Here are photos of A. papillosa collected near the White Sea Biological Station of Moscow State University at Kandalaksha Bay. The one in colour and a specimen, eating the actiniarian, I took in September 1987; the specimen sliding over sandy bottom - a year earlier. A. papillosa is one of the commonest nudibranchs in the vicinity of the Biological Station and one of the largest : some specimens could attain as long as 70 mm. They are preying on two species of actiniarians: Bunodactis stella (Verrill) (= Aulactinia stella (Verrill) according to Dunn,Chia and Levine, 1980) in the littoral environment, and on Metridium senile (Verrill) in the sublittoral zone. During the long spawning period of A. papillosa, from June up to the end of September, the spirally coiled festoon shaped egg-strings of the species can be regularly seen attached to the stems of Zostera, stones and empty shells of Bivalvia. The largest egg-masses may contain up to millions of eggs. Producing the large egg masses may take A. papillosa as much as 16-18 hours. There are usually more than one egg in the egg-capsule, sometimes - up to 19 eggs. The diameter of the fertilized eggs is 78-80 microns.
P.S. The colour photo had been published in Roginskaya I.S. & Reller N.B. (1991) Nudibranchia versus Cnidaria, Priroda, 9: 64-70.
Best wishes,
Irina.
irina7@hotmail.com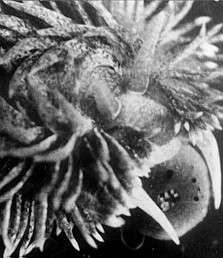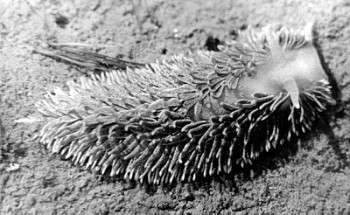 Dear Irina,
Of course we're interested in Aeolidia from the White Sea. The photo of it eating the small anemone is interesting because it seems to be exhibiting the behaviour I described for Spurilla australis in Australia. I have only seen S. australis feeding on a relatively small anemone, Cricophorus nutrix which lives on laminarian brown algae. The anemone quickly releases its hold on the algae when disturbed, so that it falls off and escapes. In an apparent behavioural 'trick' to avoid losing the anemone, Spurilla australis wraps its oral tentacles around the anemone as it takes a bite. This seems to be what your Aeolidia is doing in the photo.
Bill Rudman.
Rudman, W.B., 1999 (Sep 8). Comment on
Aeolidia papillosa
from the White Sea by Irina Roginskaya.
[Message in] Sea Slug Forum.
Australian Museum, Sydney. Available from http://www.seaslugforum.net/find/1300
---
Factsheet