February 8, 2007
From: Richard Zade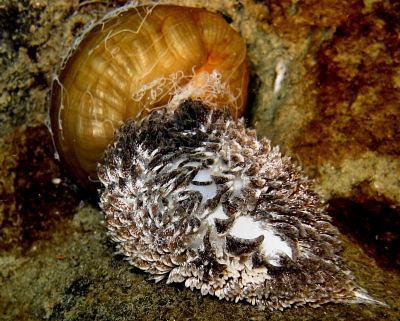 I depend on Dave Behrens book as my bible for Nudibranch id's but I have noticed that the Aeolidia papillosa shown in his book looks nothing like the ones we are used to up here in the Puget Sound area of Washington state. and the size range seems small although I am not that good with the metric system. I thought he had left out these interesting little guys as I didn't know the scientific name.
Up here we call them the 'shaggy mouse' for good reason. They range in color from gold to dark brown with the majority in shades of brown or grey and resemble their namesake very much. I was wondering why ours are so dark. Could it be a subspecies or maybe just because there is so much dark color present in our waters up here. Their main food up here is the plumose anemone as you see in the upper picture.
Locality: Point Hudson, Port Townsend , 20 to 45 feet, Washington state USA, Puget Sound, Pacific Ocean, 23 December 2006, rocky breakwater with sandy bottom. Length: 3 to 4 inches. Photographer: Richard Zade.
Richard Zade
rzade@hotmail.com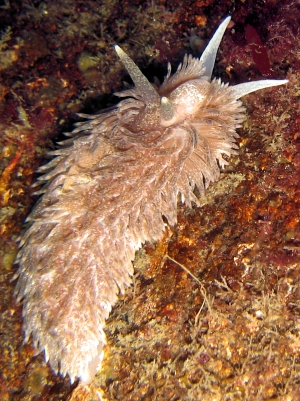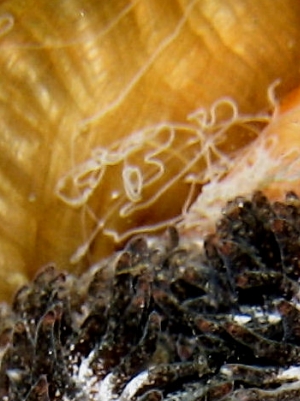 Zade, R.L., 2007 (Feb 8) Large
Aeolidia papillosa
from Puget Sound.
[Message in] Sea Slug Forum.
Australian Museum, Sydney. Available from http://www.seaslugforum.net/find/19141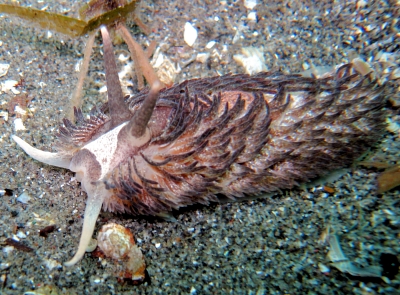 Rich:
Your Bible - I hope not, just a guide book that I hope is helpful to all the slug enthusiasts along this coast. Thanks for the compliment however.
Yes, I must admit since I have moved to the great State of Washington and begun diving here, the example of Aeolidia papillosa in the book does send an inaccurate message of just how widely variable the color of this species can be. In Puget Sound this species is huge, up to 10 cm (4 inches) or more, and I have yet to find a pale white specimen, like that used in the latest edition of the book (with Ali Hermosillo, as coauthor). Specimens up here are colored, as you have provided here, white with dense dark pigmentation. I used to think the color of Aeolidia was derived from its cnidarian prey (in California those eating white Metridium are white, those eating the copper colored variant of the anemone have an orange hue, and those feeding on Epiactis or Anthopleura are green. Now I am confused. In Puget Sound, the Metridium are either white or copper/orange. Where the slug gets, or how it manufactures, the black pigmentation intrigues me. This would make a great Master's Thesis topic.
Bill has included a great little crop for us showing acontia (the white threads seen in the first and third photos). Acontia are one of several defense mechanisms sea anemones use against their predators. Predators targeting the tentacles of the cnidarian are stung with nematocysts released from the tentacles. Those, like Aeolidia, who attack the column of the anemone, are subjected to the release of acontia, thread-like extensions of the gastrovascular cavity of the anemone, which also bare microscopic harpoon-like nematocysts, for the purpose of stinging and dissuading the perp.
Great observation,
Dave Behrens
Behrens, D.W., 2007 (Feb 8). Comment on Large
Aeolidia papillosa
from Puget Sound by Richard Zade.
[Message in] Sea Slug Forum.
Australian Museum, Sydney. Available from http://www.seaslugforum.net/find/19141
---
Factsheet