April 14, 2005
From: Binyamin Koretz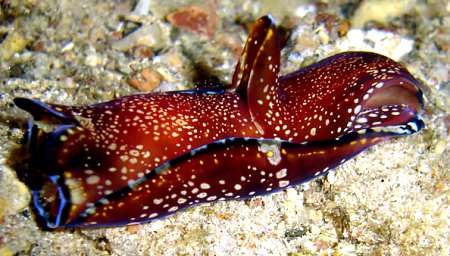 Hi Bill,
Philinopsis cyanea appears in Eilat in the spring (roughly March-June) and we've never seen one bigger than 1.5 cm. This month (March) alone, we've seen 3 different specimens - all of them 1-1.5 cm in length and brown to black. Now we've encountered this robust individual, which we measured at about 8 cm when fully extended. Not only is the size out of proportion in light of the seasonality and the fact of its co-generationists being one-sixth the size, but also the reddish base color and the relative height of the top of the headshield don't fit the P. cyanea mold. In fact, it's remarkably similar to the 1998 Italian photo by Gianni Neto on your P. depicta Fact sheet, down to the irridescent blue tone in the red base color.
Locality: Eilat, Village Beach. Israel, Red Sea (Gulf of Eilat). Depth: 4 m. Length: ca. 8 cm. 26 March 2005. rubble slope, night. Photographer: Binyamin and Shulamit Koretz.Playing amateur scientist, we came up with 3 possible explanation
(our favorite) This is

P. depicta

, and it can now be considered a reverse

Lessepsian migrant

.

This is P. cyanea, but then, as you suggested elsewhere in the Forum, P. depicta and P. cyanea would have to be the same species.

(least likely) There are 2 different species with overlapping ranges, but one is small and brownish-black, and the other is large and tends to reddish.
What do you think?
Best regards,
Binyamin
binyamin@koretz.net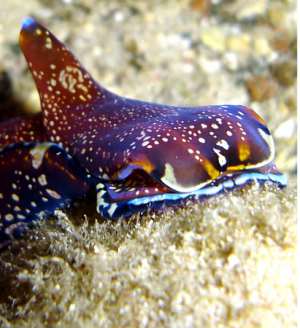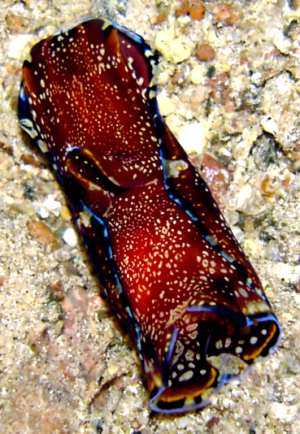 Koretz, B., 2005 (Apr 14)
Philinopsis depicta
? from the Red Sea.
[Message in] Sea Slug Forum.
Australian Museum, Sydney. Available from http://www.seaslugforum.net/find/13457
Dear Binyamin,
You raise a number of interesting points, including whether there are any examples of Mediterranean to Red Sea migration.

Concerning the identity of your animal. As you mention, I have difficulty in separating Philinopsis depicta and P. cyanea, apart from their geographic distribution. Their anatomy appears to be the same and they have the same very variable colour range. Concerning the 'the relative height of the top of the headshield' of your individual, and its large size, have a look at the animals from Zanzibar and Dar es Salaam I have on the P. cyanea Fact Sheet, showing an equally large 'horn' on the posterior head shield and animals growing to 7 cm in length.
Size is quite an interesting characteristic in aglajids. I have found species such as Chelidonura inornata and C. fulvipunctata in huge numbers, mating and laying fertile eggs in Sydney, but growing to no more than 15 mm long, while in tropical waters they grow to twice or three times that length. I am not sure if food availability or environmental temperature affects their growth rate. Age certainly affects their size. Most cephalaspideans that have been studied, live for no more than a year, but a few individuals in a population appear to 'over winter' and so can live for at least 2 years. As they continue to grow, they can become relative giants. I suspect the large animal you have found is one of these.
At this stage I would say it is P. cyanea. The bluish tinge you note is found in most aglajids - certainly in those with darker colours and is a 'structural' colour caused by the way light is reflected and refracted off the constantly beating microscopic cilia that cover the skin of these animals.
Best wishes,
Bill Rudman
Rudman, W.B., 2005 (Apr 14). Comment on
Philinopsis depicta
? from the Red Sea by Binyamin Koretz.
[Message in] Sea Slug Forum.
Australian Museum, Sydney. Available from http://www.seaslugforum.net/find/13457
---
Factsheet